November 12, 2018 at 2:52:15 PM GMT+2
Move and experiment!
How to capture the best moments of friendship in the photos? Just stand and embrace at the beautiful backdrop? Take a selfie? These are great options, but are you sure you want to hang these "original" photos on the wall? We will help you find new ideas. Check out this selection of the most popular and fashionable photo shoot solutions with friends. And don't forget that even the most perfect shot needs professional retouching.
Original ideas for the setting
Bubble blower!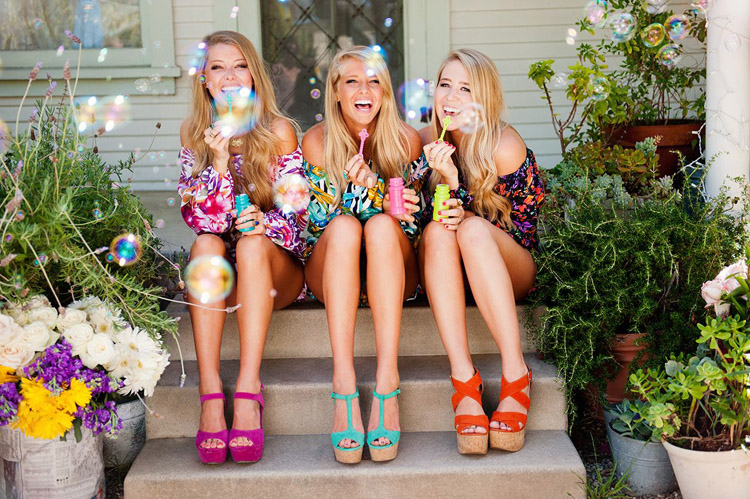 This is a classic idea for any photo shoot. Every self-respecting photographer has a bubble blower for good shots. The idea is not new, but damn, it is still cool! And if there are few bubbles, do not worry: you can add as many as you like during the retouching.
Confetti!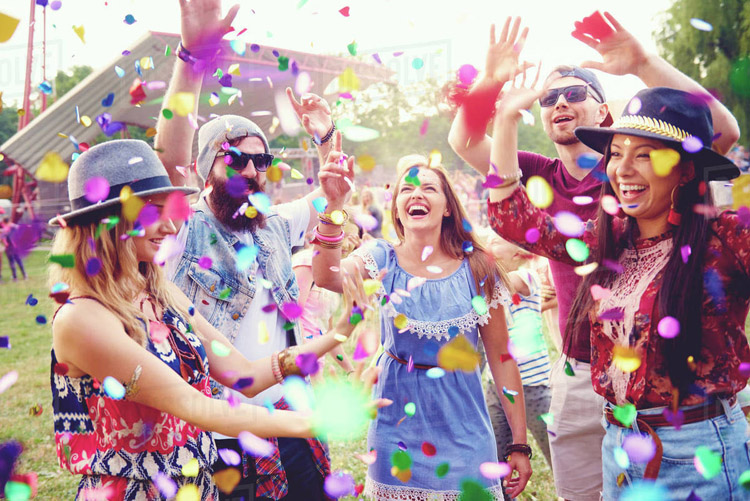 You can use confetti instead of bubbles: throw it, blow it at each other. The main thing is to have a lot of them, and multi-colored dots occupy the entire frame.
Smoke, more smoke!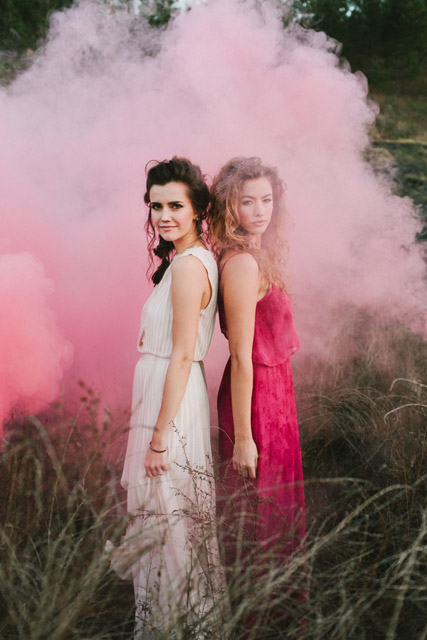 We do not offer to rent a stage smoke machine (although why not?). You can buy a pair of smoke bombs that blow colored smoke. Make it a background for your photos. Take heroic poses. Done!
Balloons!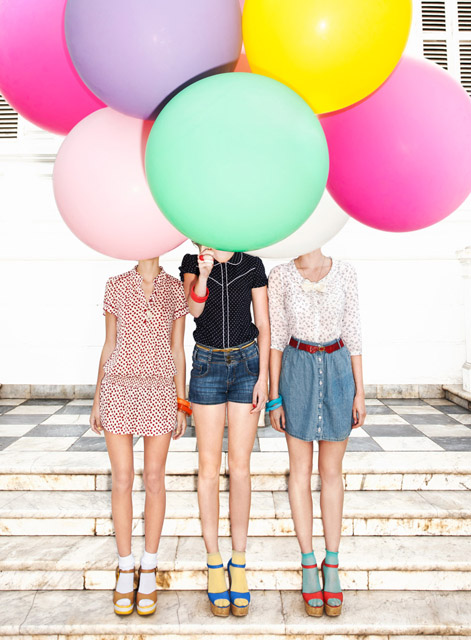 Balloons floating in the air create a good mood. Use the balloons that you like: play with them in front of the camera. Return yourself to a carefree childhood!
Play with sand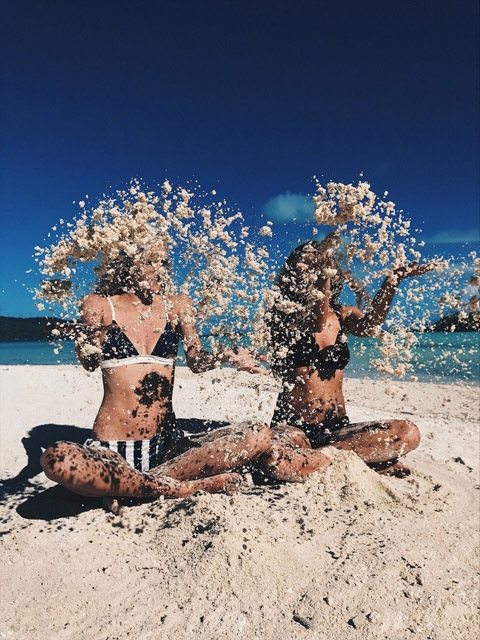 Taking pictures on the beach? Have fun! Let there be a lot of flying sand in the frame!
Ignite!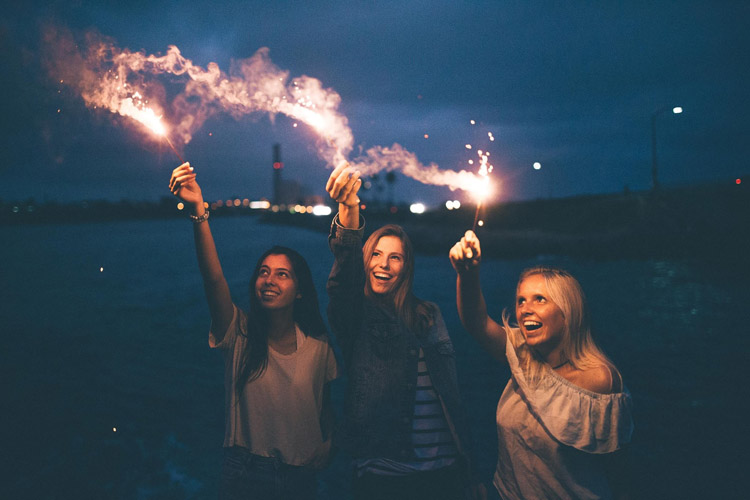 We continue the theme of sparkling lights. This time we offer sparklers. See what a cool effect they create in the photo. Do not forget about security: after a couple of cocktails, it is better to choose another setting for a photo shoot.
Put on wreaths of flowers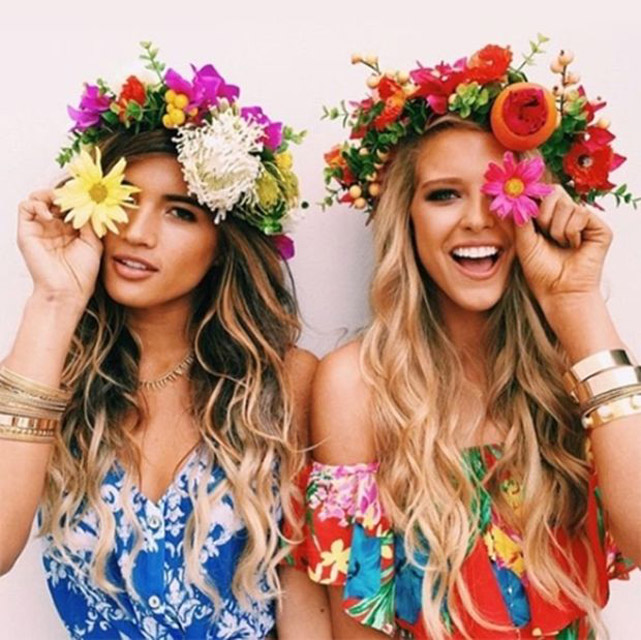 This is a great idea for girlfriends photo shoots. These simple accessories will make you even more beautiful. By the way: flowers in wreaths can be live, dried or even artificial.
Dress like a hippie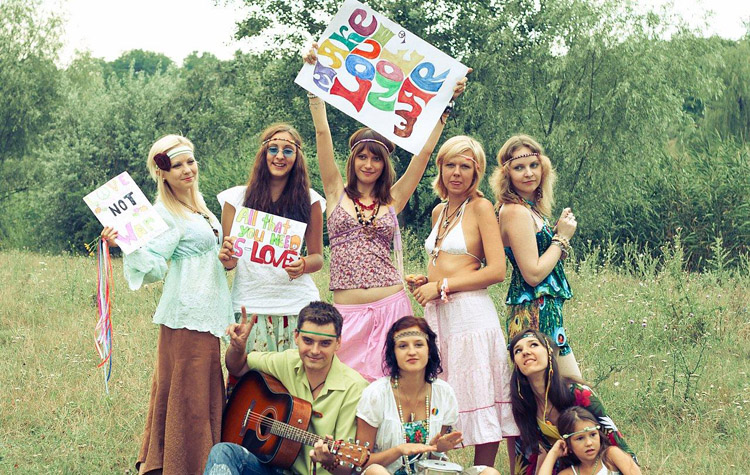 Go to the attic and take the old photo albums. See how your grandparents were dressed in the era of the "flower children". Isn't it great? Try on these simple but beautiful images. Do not forget about the head scarves, long beaded necklaces and other thematic accessories.
Inflate bubble gum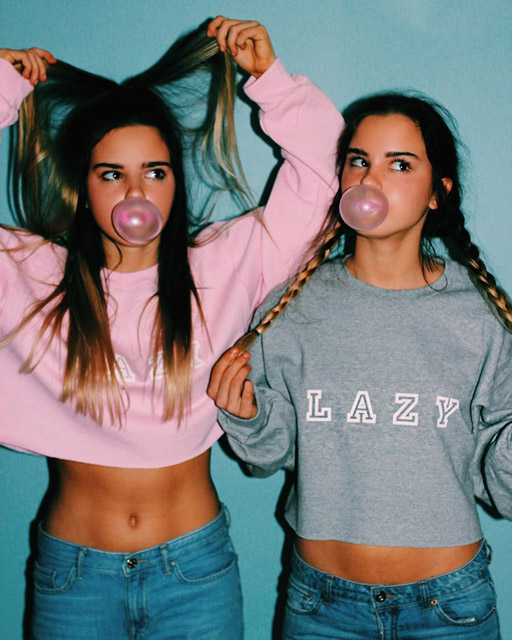 Take chewing gum of bright colors and inflate bubbles. This is a great idea for a fun photo shoot of two girlfriends.
Christmas Lights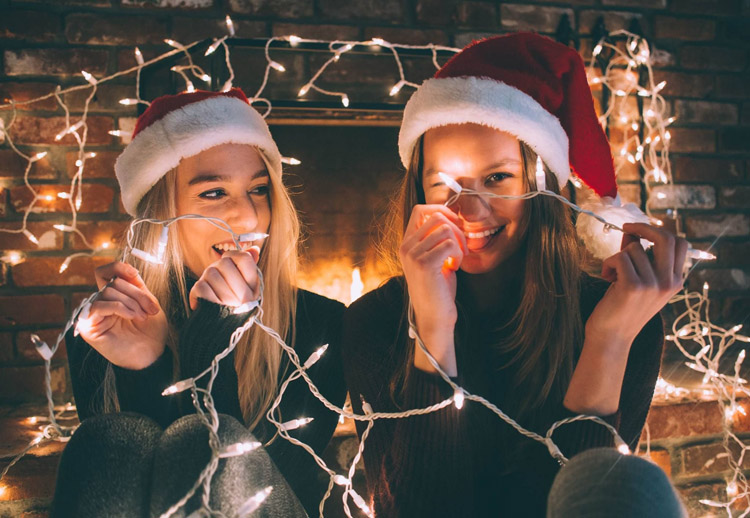 Yes, yes, this is a classic idea. But it's a great idea for a friendly photo on Christmas Eve. It's time to get all the lights out of the attic with lights, put on elf hats and have some fun.
Take the cups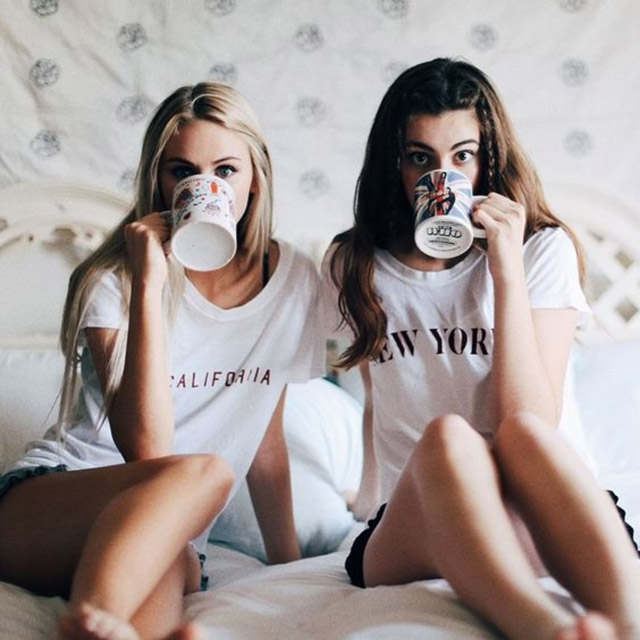 You discuss all the important moments of your life drinking coffee or tea. Create this atmosphere. Take huge mugs or cups with original drawings. "Drink from them", keep in sync or fooling around. The result will be interesting.
Put on your hats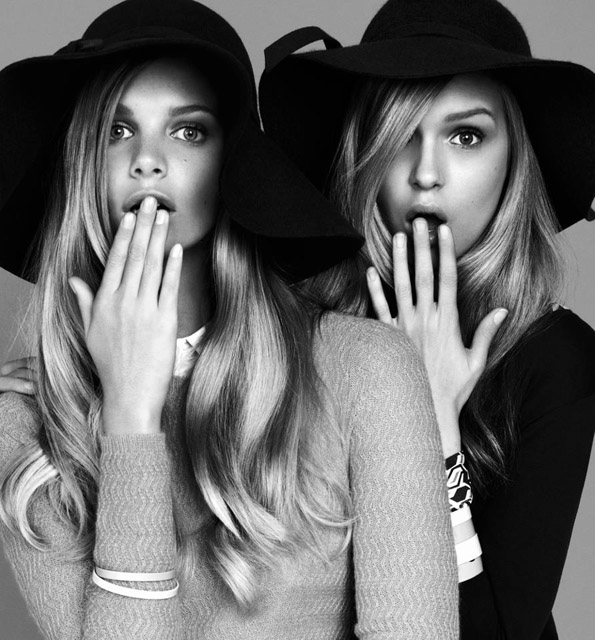 If you need the simplest idea for a photo shoot - here it is. Find the same wide-brimmed hats, adjust the close-up and touch the edges of your hats in the frame. Show any emotions. Done!
The simplest ideas
Go to your favorite place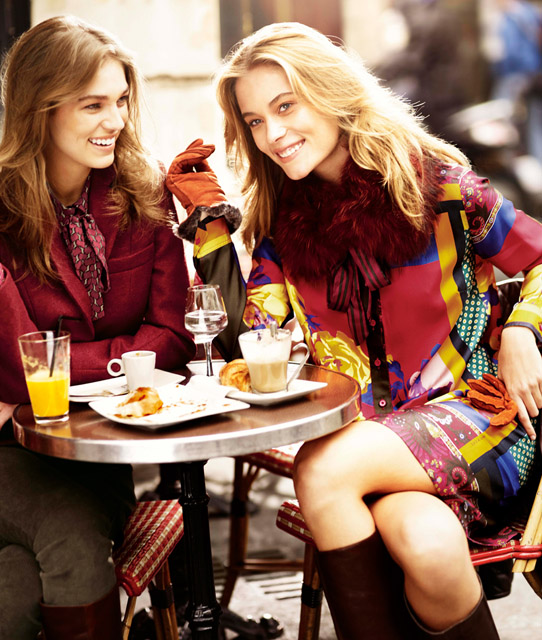 Want some laid back photos? Those where you would not have to "pose"? Then go with a friend to a place where you are always comfortable. This could be a favorite coffee shop. Sit at the table, order what you like, talk: feel confident and do not pay attention to the photographer.
Catch the moment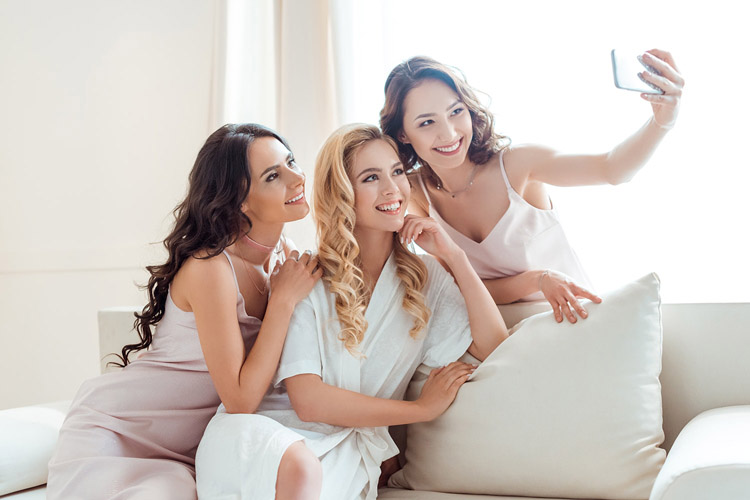 Let the photographer "catch" you during the natural daily activities. For example, put on makeup and do not pretend. Pictures will be very personal and original.
Take pictures with unusual items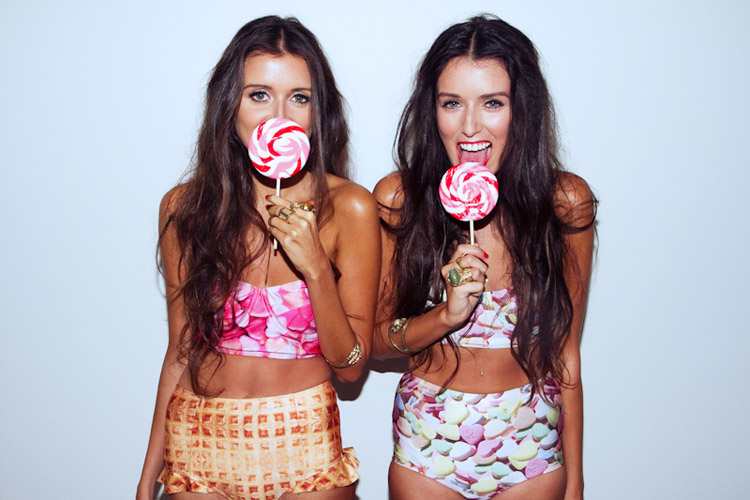 Keep fooling around: take identical unusual toys or huge lollipops.
Read together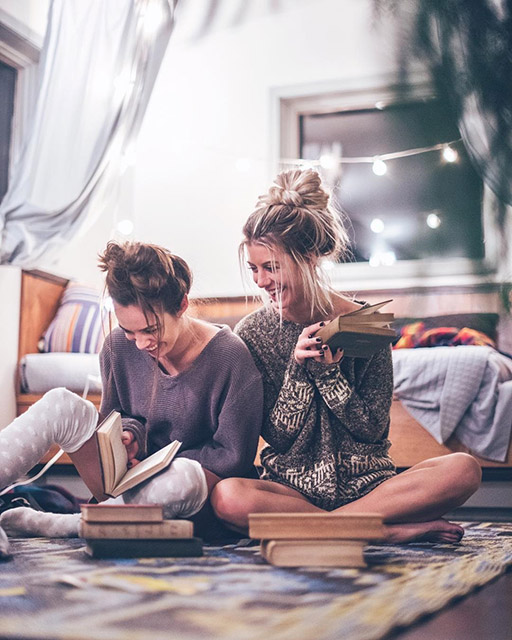 See how cool the photos of friends with books look!
Dress the same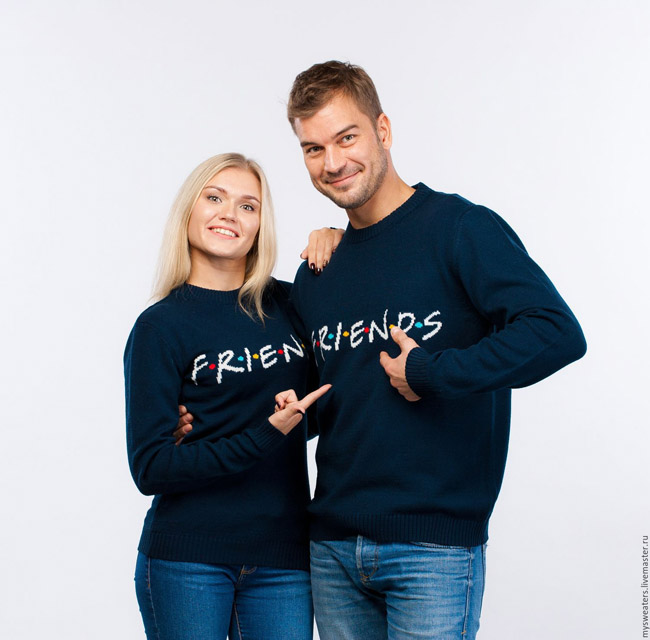 This is another standard idea that works flawlessly. The same style and color of clothes is a symbol of your mutual affection.
Admire the sunset together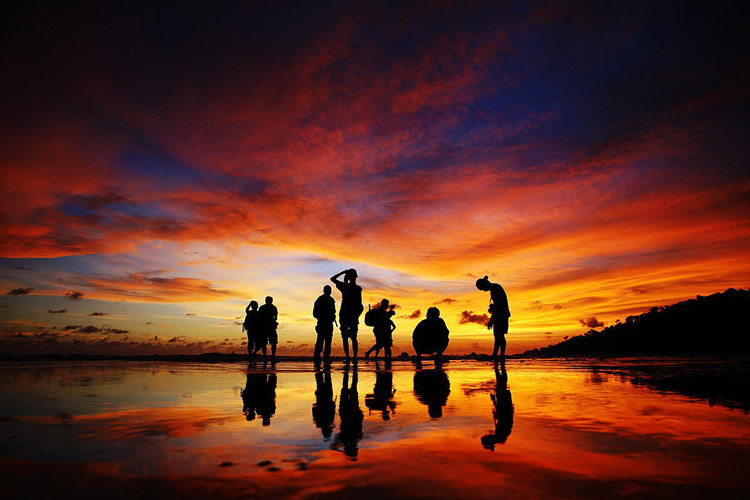 Your silhouettes and the setting sun at the backdrop - this is so romantic! We are sure that after years this photo will make you have pleasant memories.
Walk along the train tracks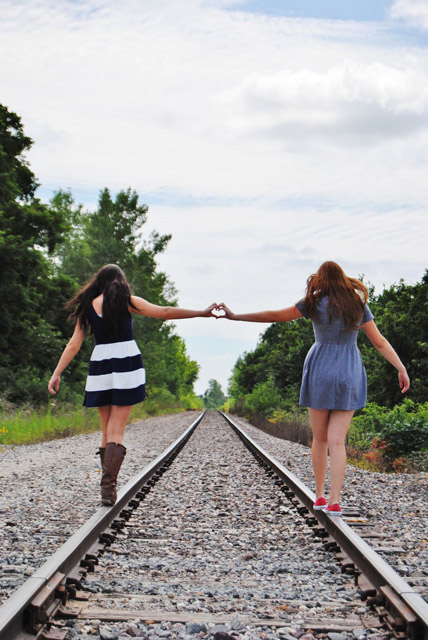 This is a VERY popular idea for photo shoots. However, it cannot be called obsolete. The long rails stretching into the distance, the beautiful nature around them - this is very exciting and philosophical.
Stay yourself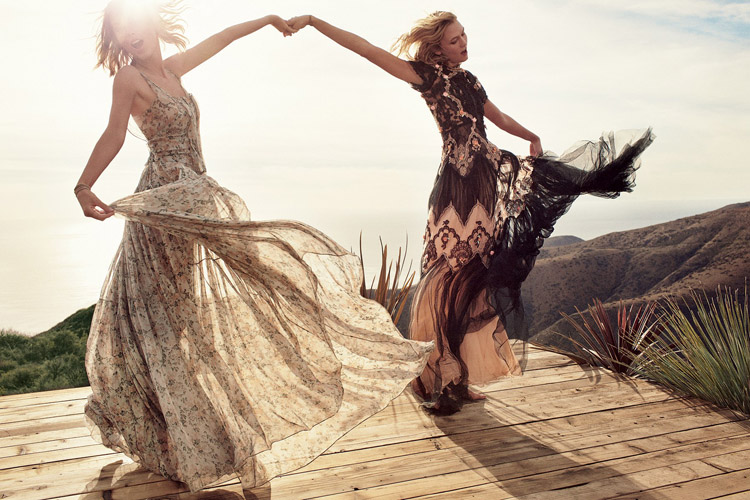 Do not try on any images. Do not look for any setting. Just wear casual clothes and be sure to trust an experienced photographer. He will be able to create a magical picture, showing your true feelings.
A bit of "madness"
Hit a friend ... with a pillow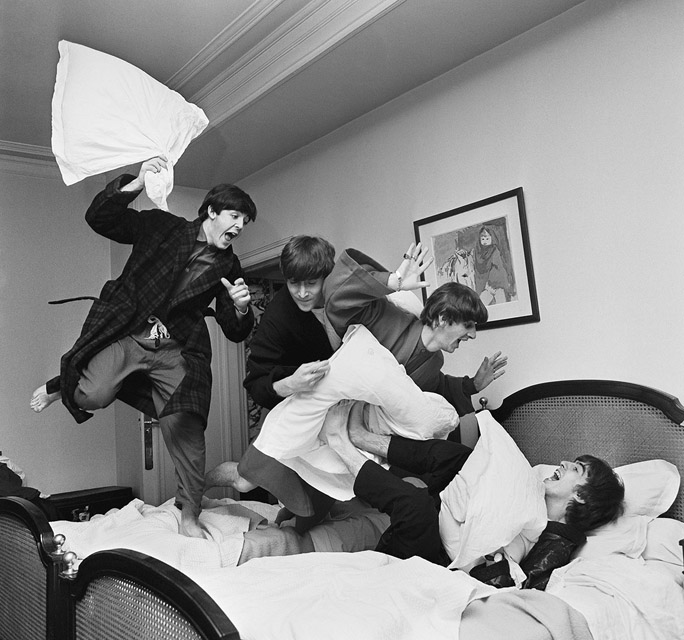 Isn't it great to be able to "fight pillows" with a friend, and also capture this moment in the photo? And most importantly, no need to pretend: while the photographer is working, you can beat each other with pillows in full force. Just do not take a pillow with silicone - find the classic, feather pillows. Let them break during the photo shoot and fluff flies around.
Imagine you are Siamese twins.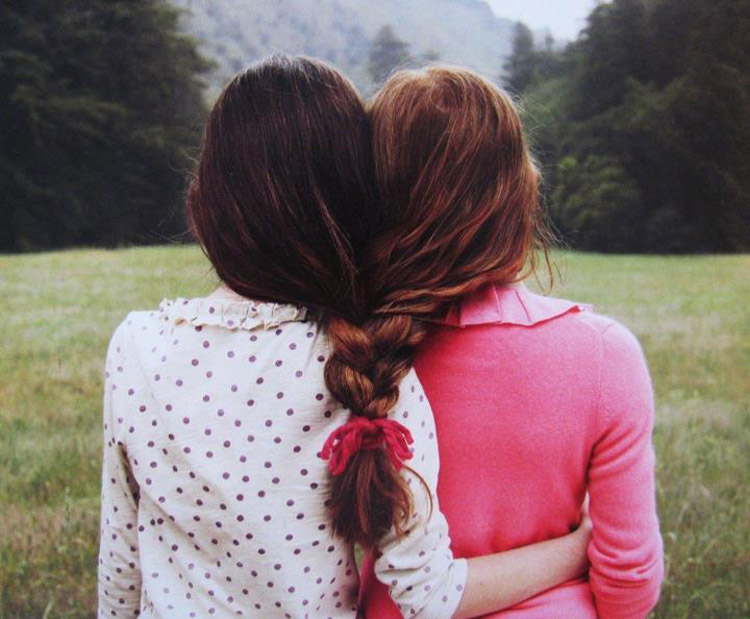 What is friendship? It is when two people consider themselves one inseparable whole. So show this in the photo! If you have long hair - weave one braid for two people. Or twist the laces on your sneakers. Or wear one huge jacket for two. In general, make the photo become a symbol of your strong friendship.
Participate in the "battle of colors"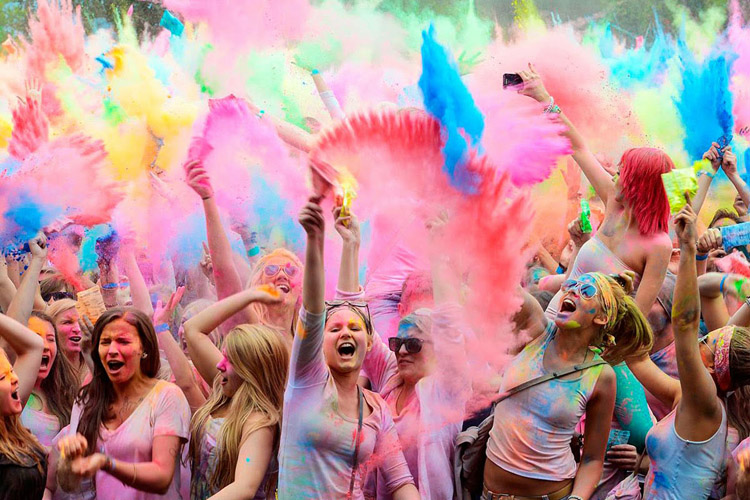 And get emotional unforgettable photos. This is the most peaceful battle of all existing, and this is the best way to achieve pure emotions.
Play the fool!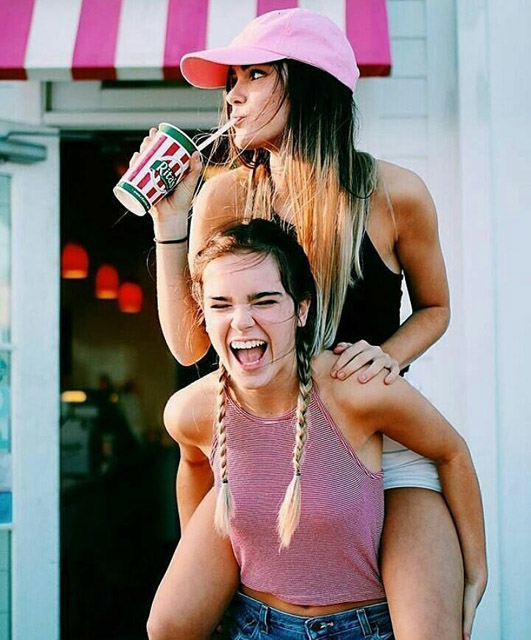 The best photo shoots are where you behave naturally. What do friends do in moments of good mood? Are they reading Shakespeare or Ernest Hemingway? Well, no! They are fooling around! Give this atmosphere - sure, the photos will be unforgettable.
Take a ride in the shopping cart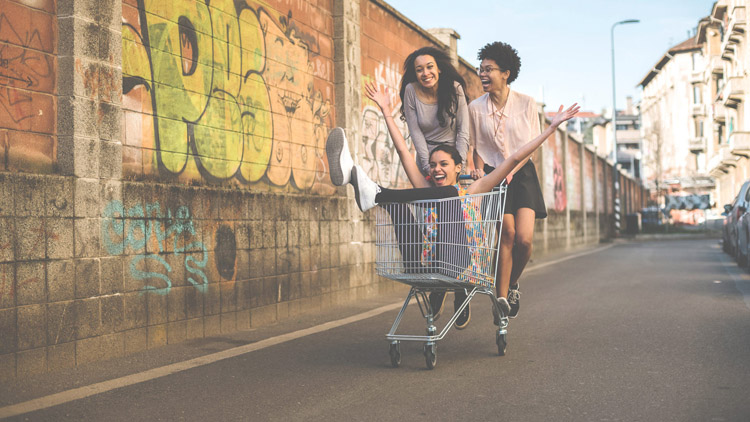 Oh, what a feeling of freedom when you roll down the street, sitting in a shopping cart and spreading your arms! This is a classic, but it will not leave anyone indifferent.
Dress like superheroes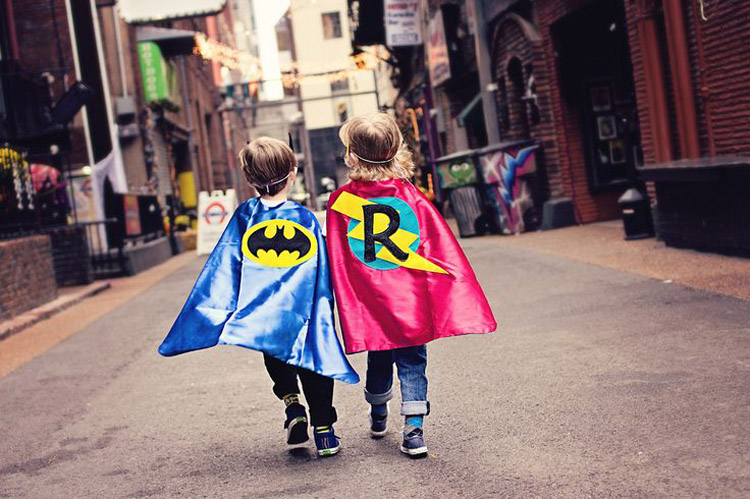 This is a good idea for a photo shoot of little friends. But adults can also try it. Put on bright costumes of your favorite superheroes and take pictures in a gloomy area. This contrast will produce an impressive result. Maybe you could rescue someone at the same time?
Commit a "crime" together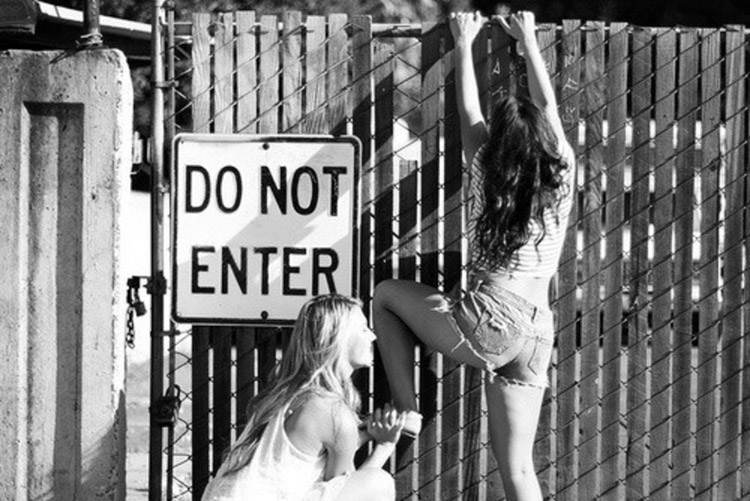 No, no, don't do anything illegal! Just invite you to play the "accomplices of crime." A high fence with a prohibition plate would be enough. One friend will pretend to try to climb it, the other - that helps him. You can use the fence of your backyard - so as not to get into trouble.
Stay eccentric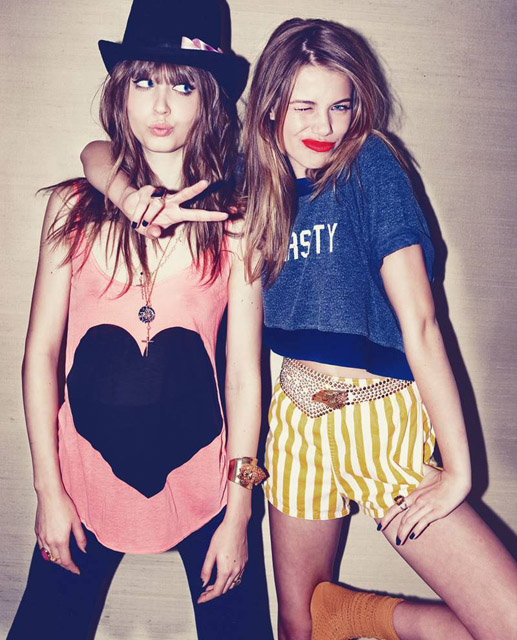 Do not be afraid to take off the masks of adults and serious people and put on something defiant and funny. Do something original - apply makeup that you have never done before.
Ideas for travel and walks
Visit an amusement park in the evening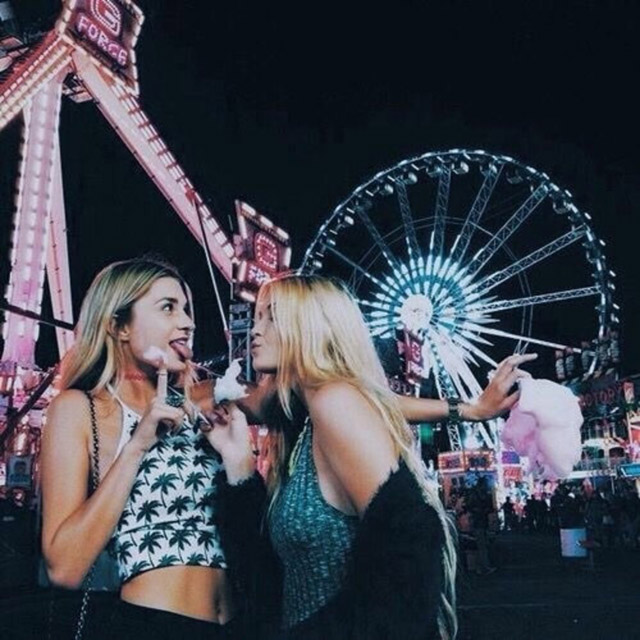 It will be unforgettable to be photographed in the place where everything sparkles with colored lights!
Go for a journey together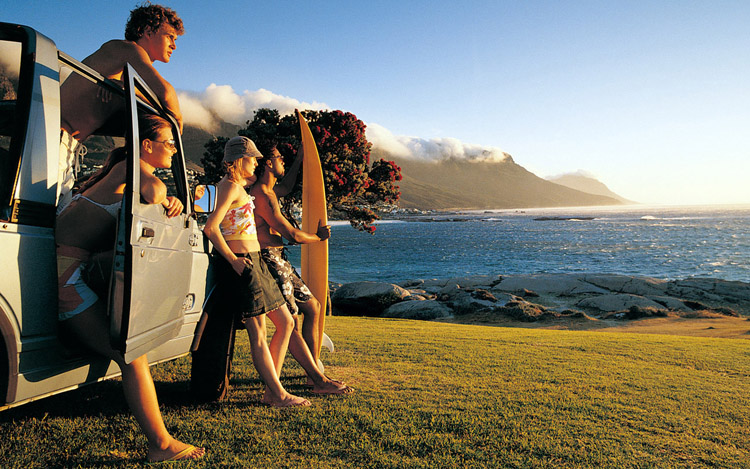 Or you can just create such images. How to do it? Put on comfortable clothes, take large suitcases, and find a van or camper. All this will be a great setting. As you know, a long journey is great with the closest people. The philosophy of this photo shoot says everything.
Climb to the mountain top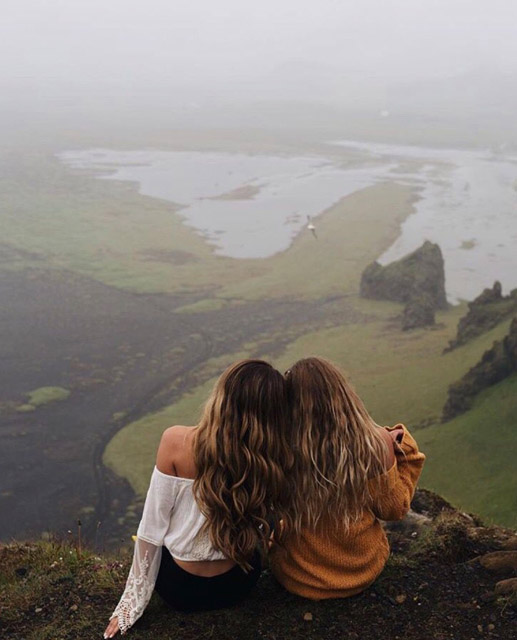 Oh, this feeling of "flight", this fascinating little world under your feet, these two figures on top! Photos are stunning and filled with meaning. If there are mountains or a cliff with a beautiful panoramic view nearby, you definitely need to take such photos!
Have a picnic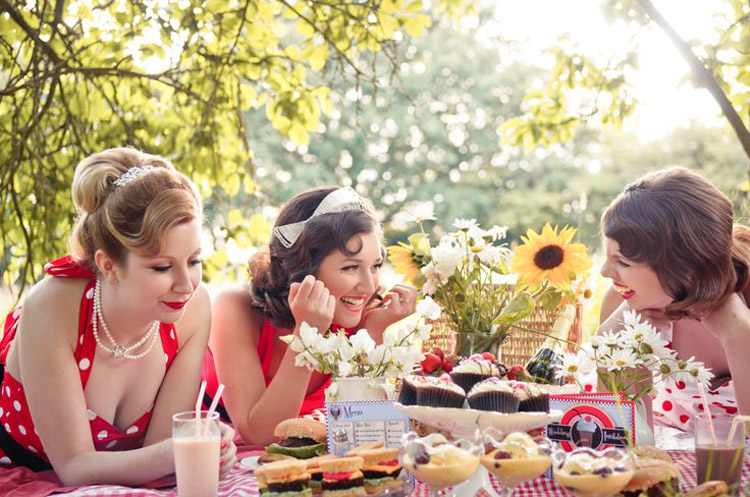 This is trite? Not! Just let the picnic be themed. For example, it can be in the style of the 60s. Find clothes that match the style, dishes and a basket for products. See what people ate and drank in those years. That's all, you just need to go out of town and arrange a photo session.
Make a lot of splashing!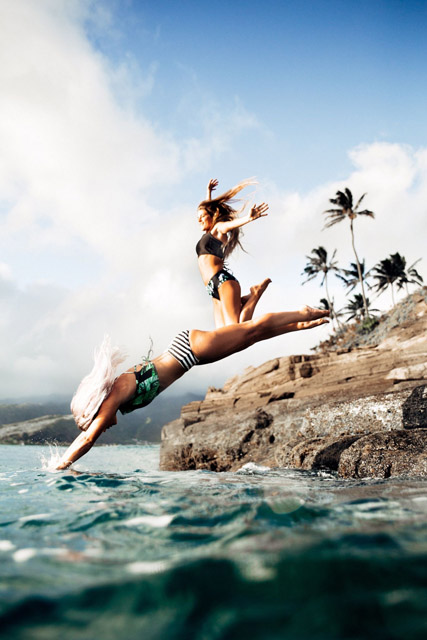 Relaxing with friends near the water? Then you do not have to look for ideas for a photo shoot! Feel free to jump into the water, splash and have fun - you get masterpieces that convey a great mood.
Dive under the water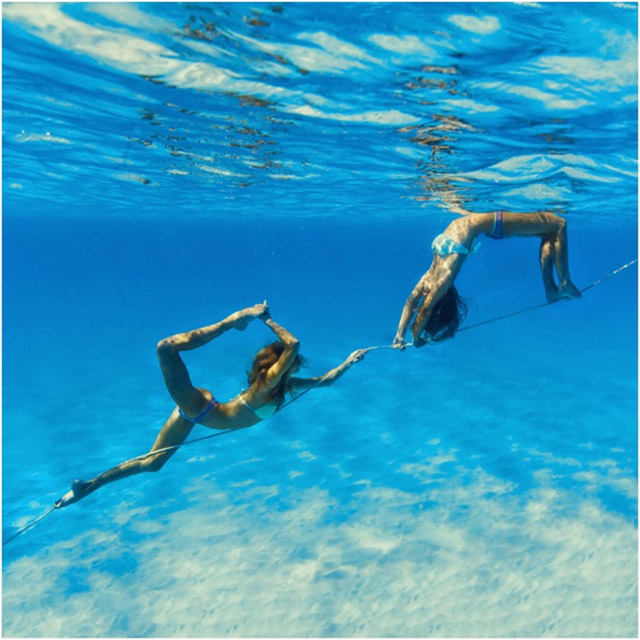 If you are a great swimmer, and the photographer has a special camera for underwater shooting, the result will be fascinating. Experiment - any idea will be even better under the water.
Take a photo session at Disneyland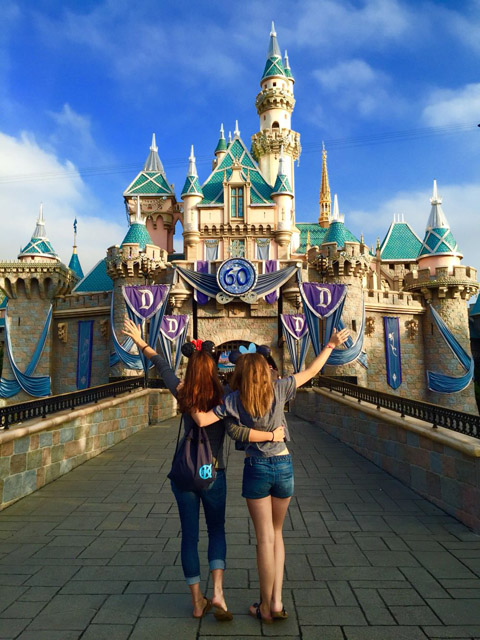 Everybody dreamed about it in childhood: to be photographed with the fabulous castles at the background, dressed in the costumes of favorite cartoon characters. It's time to make your dreams come true! Do not forget about themed costumes and go have fun!
Go in for sports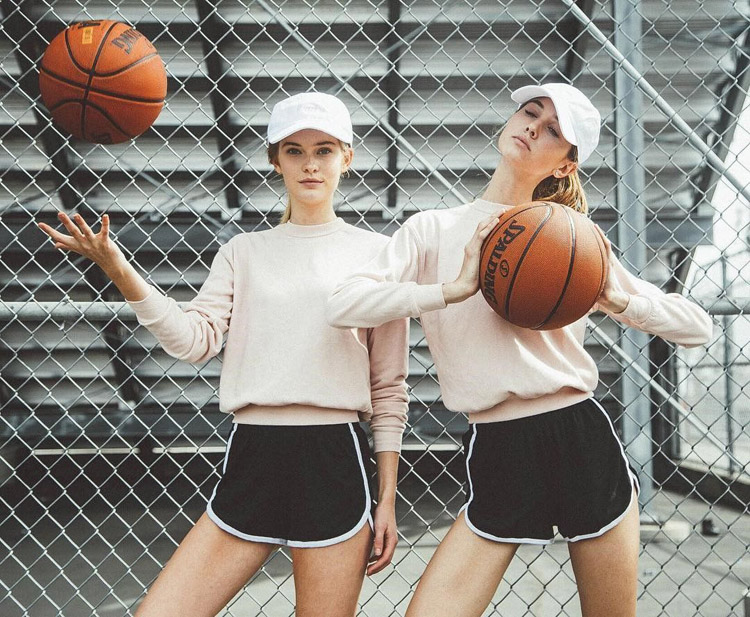 This is important for your health. Well, if you are not ready yet, you can "try on" sports images. Imagine yourself as a pathetic baseball player or cool basketball player. Do not forget about the setting, sportswear and playground on the background.
Take a photo with the city on the background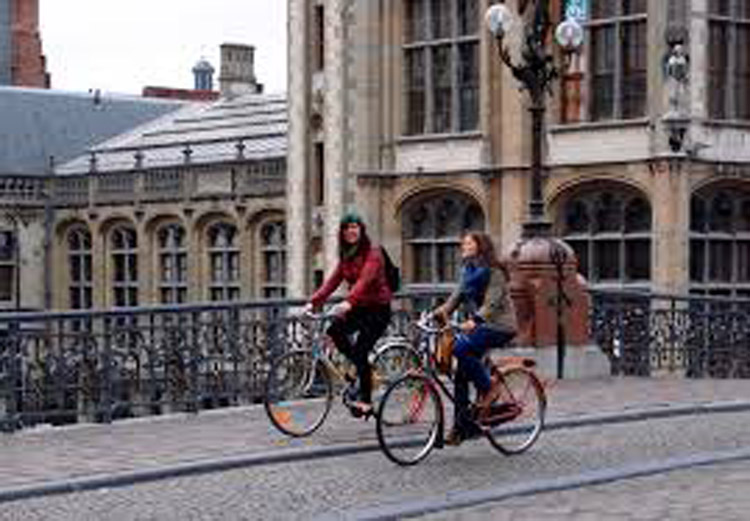 Is there any place in your city with a beautiful panoramic view? Go there by car. Take whatever poses you want. The result will amaze you: you look like the heroes of a Hollywood movie.
Ideas for Girlfriends
Visit the pool party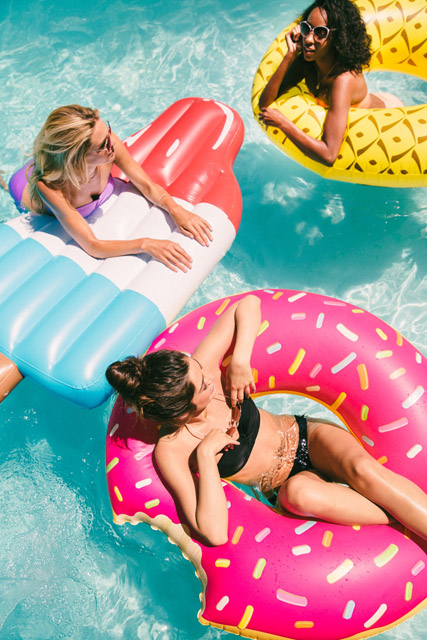 A large pool with clear water, plenty of sunshine, huge inflatable toys for swimming and cocktails are a great setting for cool shots with friends.
Take a bath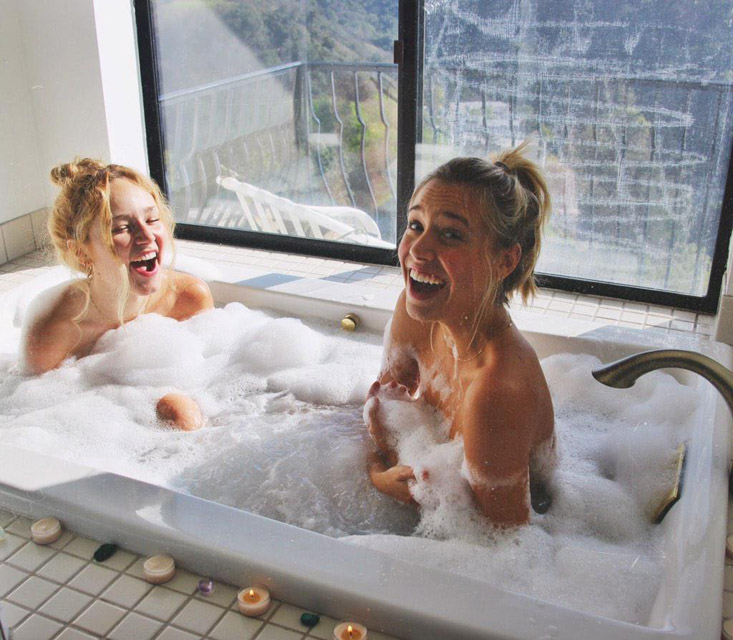 This is an interesting idea for the photo shoot for girlfriends. All you need is a beautiful bath, a lot of foam and a good mood!
Dance!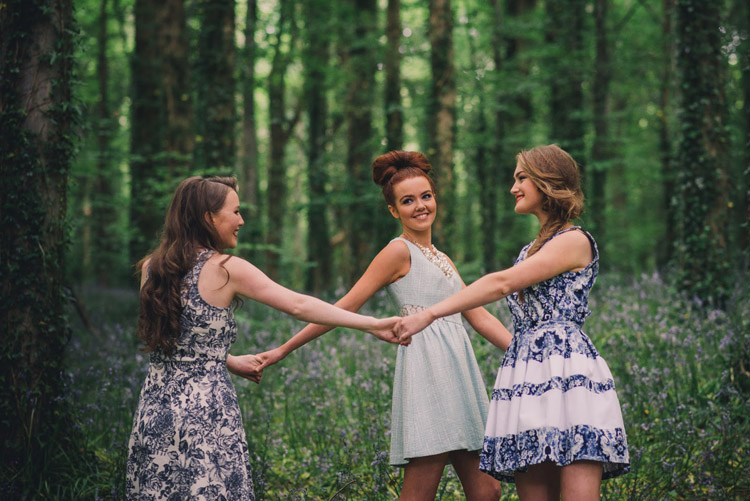 Dance is unity, fun; it is a source of the most positive emotions. Dance to the camera - it will be great!
Jump on the bed!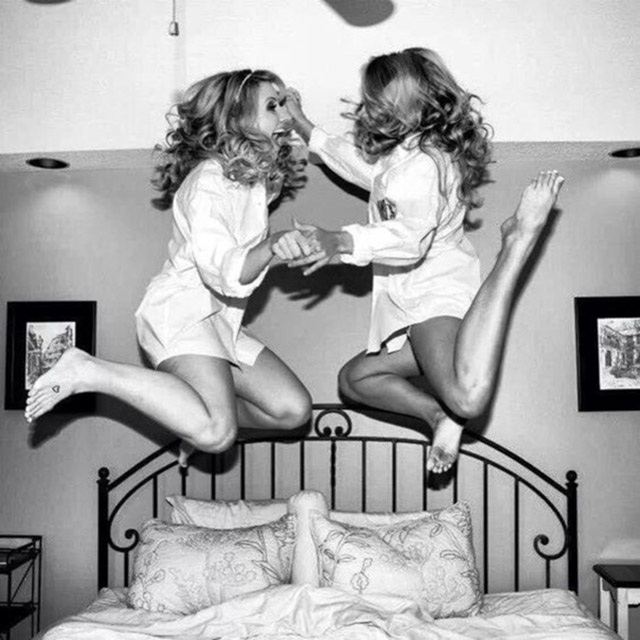 Is this madness? Have you been doing this since childhood? So jump now and try to reach the "sky"!
Create pin-up style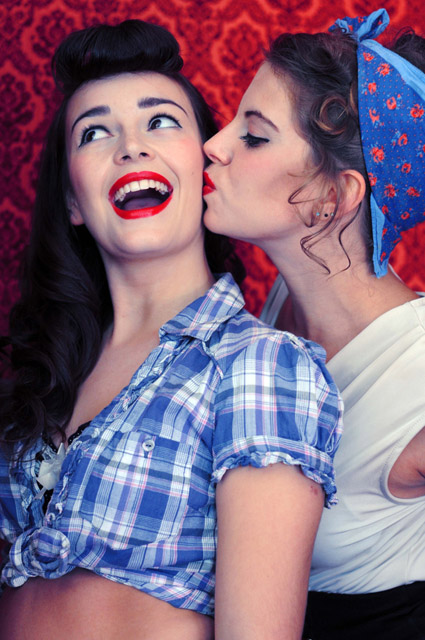 Retro is always in fashion. Why not create it in the photo? Experiment! Anything that the photographer cannot create, we will do at the stage of retouching.
Walk hand in hand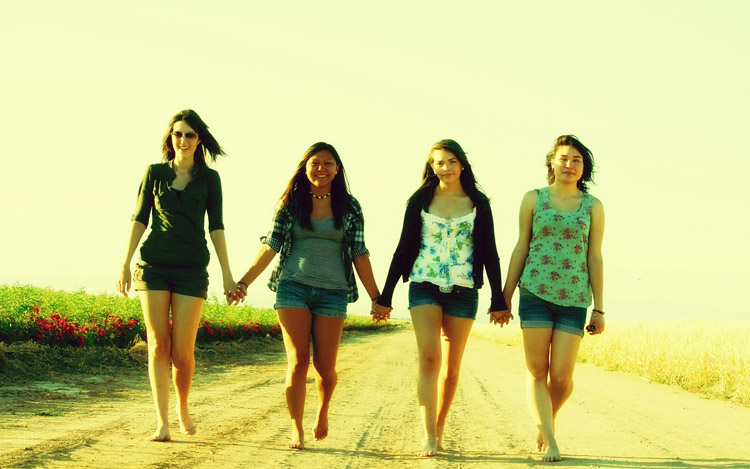 This is another idea for girlfriends. Walking together hand in hand - what could be gentler? It remains to find the most favorable angle for the perfect photo.
Have a pajama party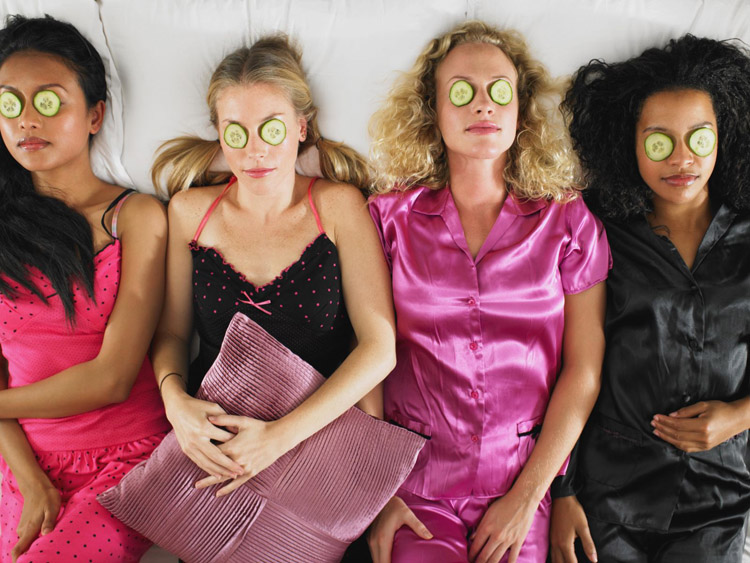 After all, this is a symbol of friendship! Remember how you asked your parents to leave, how you waited for the opportunity to have fun in the evening together in a relaxed atmosphere. Repeat these magical moments with friends.
Ideas for large companies
Show your legs!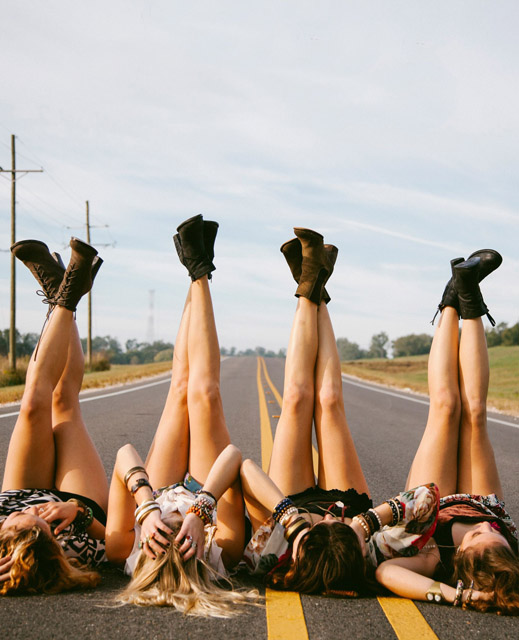 Another simple but cool idea for a photo of several friends.
Cross the road on the "zebra"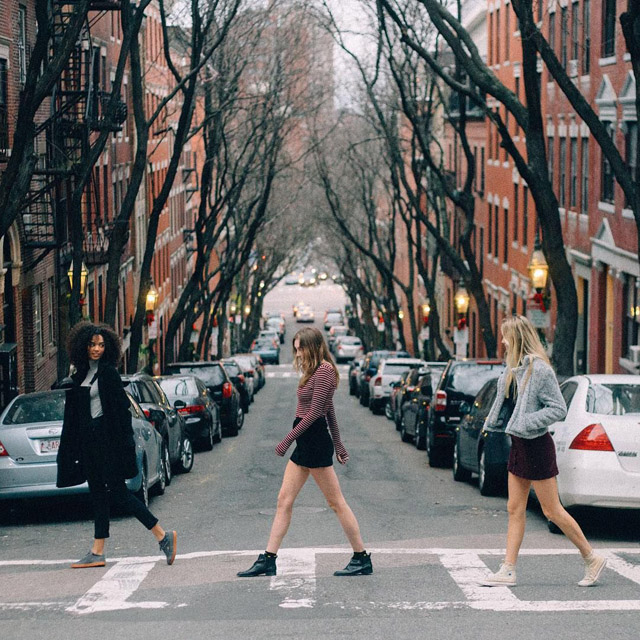 Even if you have never listened to the Beatles (is this possible?), you probably saw their famous cover of the album "Abbey Road". Many generations of people have already parodied this cover - and it always looks cool. Why don't you try it? It is not necessary to go to London: find an interesting street with a crosswalk in your city.
Make a photo session in the style of the "Friends"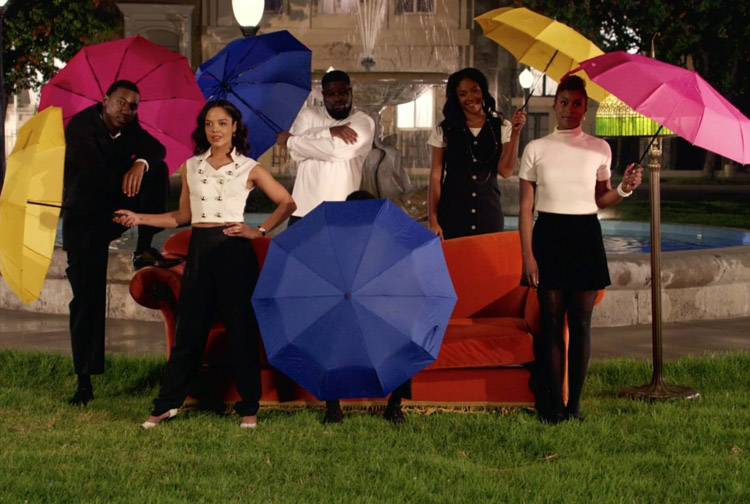 This is a classic, but still super-popular TV show that inspired many generations of friends to thematic photos. All you need is to recreate any classic poster with the characters of this series. It will turn out cool - we assure you.
Just hug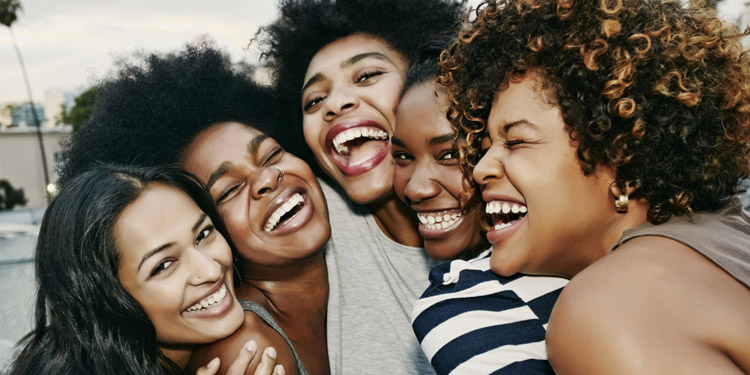 This is an ordinary idea, but it works fine. Gather in a fun "bunch", twist your hands and smile!
Ride a bike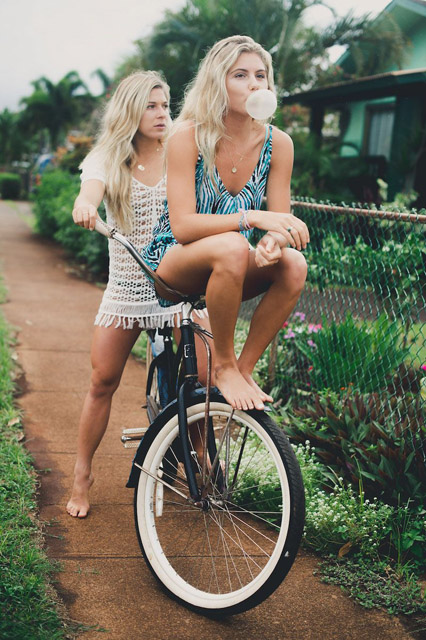 Cycling is also a symbol of childhood. Remember how you carelessly conquered the tracks and had fun with friends? Repeat this. You can even fool around, sitting on one bike together.
Go to the playground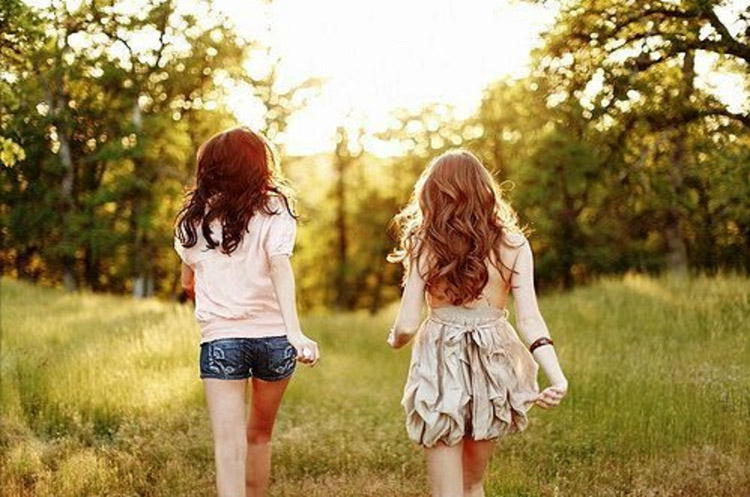 This time we offer to go to a place where you played with friends many years ago: it could be a playground, a backyard of a house, a lawn ... Vivid emotions are what you can get while you indulge in nostalgia.
We hope that were able to inspire you to an interesting photo session. And do not forget to send the pictures for editing to the professional retouchers of our studio. We will make your beautiful photos amazing!