June 6, 2018 at 3:44:43 PM GMT+3
Face swap by pro photo editors: transplantation without surgeons and stresses
Often it happens that you want to swap your face and make a photo more attractive, interesting, funny, and provocative. We are not surgeons, but we can help you. To swap a head or face in the photo are totally affordable photo retouching services for everyone. Moreover, a professional editor will perform the work in such a way that no one will guess about the head swap. Why do people need head swapping? There can be different reasons:
You like your posture in one shot, but your eyes are closed. And everything is fine with your face on the photo but all the shortcomings of the figure are noticeable. Why not to combine the benefits of both images?
You would like to make a joke: create an avatar for a social network or a postcard for a friend with a funny image. Swap a friend's face with the face of Scarlett Johansson or swap heads with your beloved dog - it will turn out to be original and fun.
You communicate on the Internet with a friend from another state or country, and she asked for a photo. You want to look like Chris Evans, but in real life, you're rather John Hill? Some manipulations - and your head will be put onto any torso you like.
Do you blog or write a column in the newspaper, and you need to make a cartoon? Head or face swap will help you to achieve the goal.
No matter why you need this service, the most important is that we will always help. And it will be quality, professional, perfect result. Do you doubt whether it's worth contacting professionals? Do you think you can do this by yourself or using an app? Well, here are some ways to do this: choose the right option and decide which one is best for you.
How to swap a face: video and instructions
Look how we face swap in Photoshop. If you use this program confidently, you will be able to repeat our actions and do this by yourself. If you have no skills in photo retouching, just make sure that the professionals are able to do everything: even to turn Frankenstein into a Miss Universe. And no one would notice that the photo was photoshopped.
Do you want to swap a head or face by yourself? Why not? Read our detailed instructions and try to follow all the steps correctly. But before that, let's talk about the requirements to the photos.
How to swap the head or face so that it is not noticeable?
Four rules for successful head swapping:
The angle of the head in photo 1 (original) and photo 2 (which we take the face or head from) should be the same.
The same position of the head (straight or lowered chin).
Similar lighting (including shadows on the face).
Same face/head size in pixels. This is very important; otherwise, it will not work!
If you want to do everything by yourself, these rules are mandatory for you. The professional photo editor is able to solve more difficult tasks; that's why when ordering our services, you do not have to take care about the original photo to match the photo you would like take your face or head from.
Face swapping in Photoshop: detailed instructions
We will use the original photo and name it Face 1 (F1) and "Donor" photo we will name Face 2 (F2).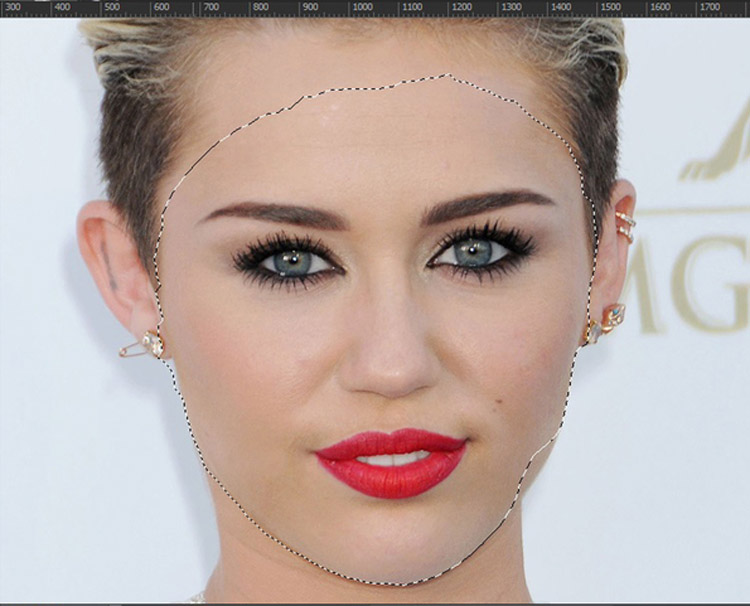 Select F2 with the help of the "magnetic lasso" tool. You can do this not very carefully as we'll do all the finishing work later. Copy the selection and go to F1.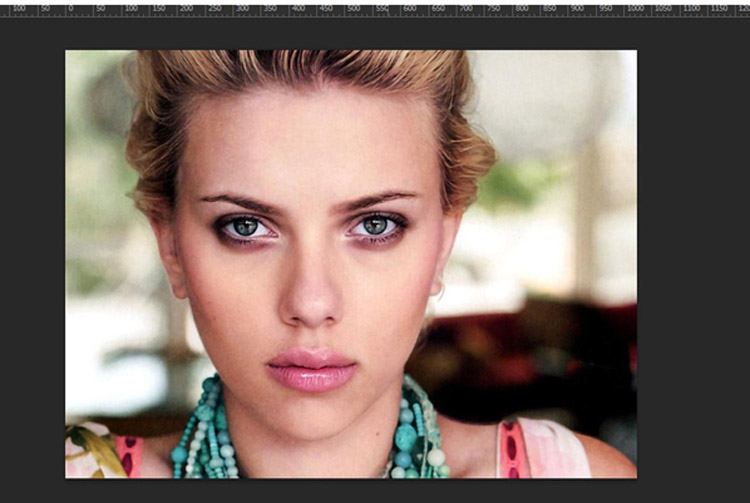 Press Ctrl + J to create a duplicate layer. Hide the created layer.
Insert F2 and set the transparency settings to 50%.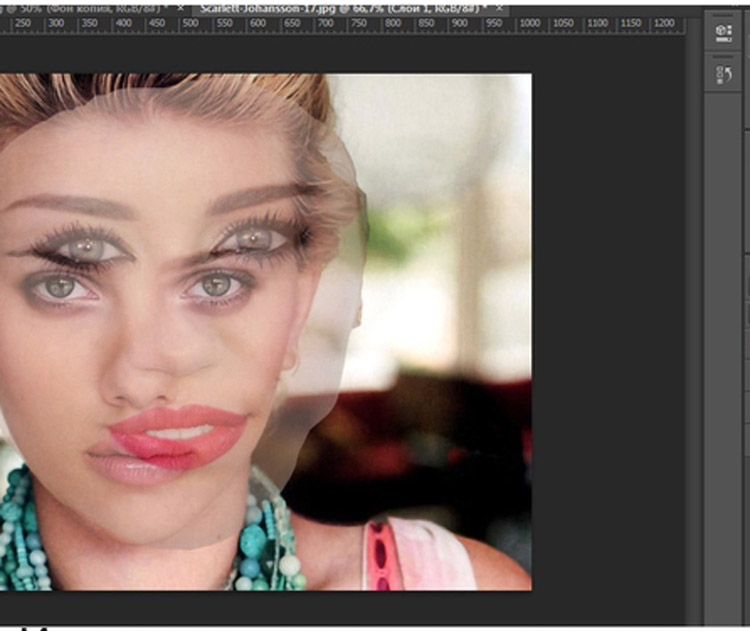 Use the Ctrl + T keys to change the size of F2 to the size of F1. Attention: when increasing or decreasing the image, hold Shift button to save the proportions.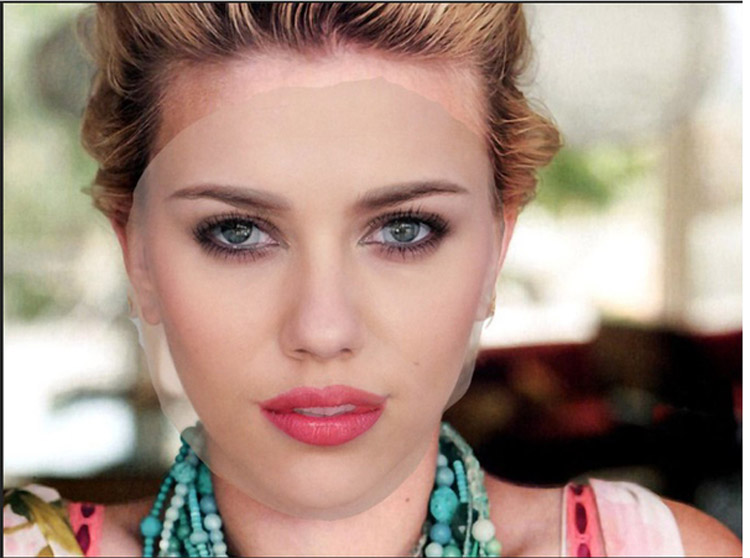 We bring F2 up to the optimum proportion, and after that we erase it using the "Eraser" tool.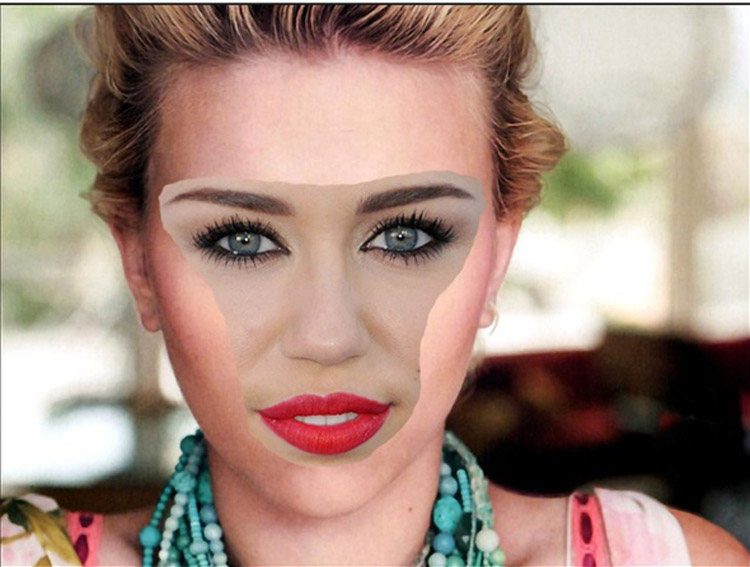 Then we press Ctrlsimultaneously with the left mouse button to see what layer we got.
Go to Selection / Modification / Compress to optimize F2.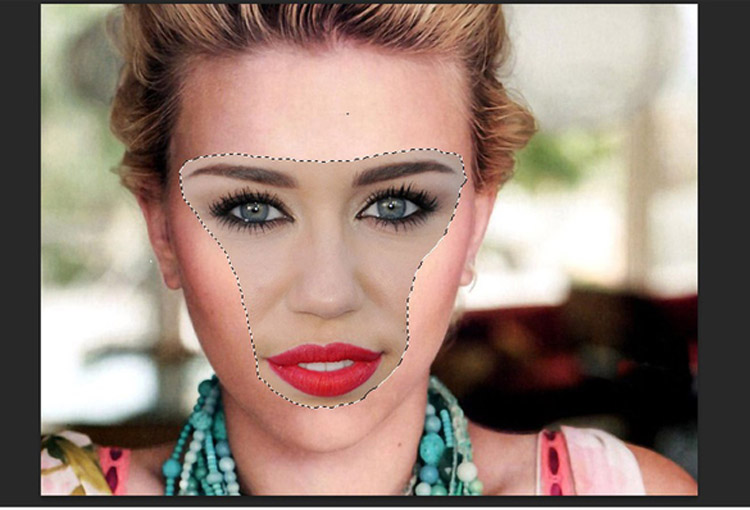 It's time to copy the background. Select it and press Del.
Select F2 and F1 with the left mouse button, holding down Ctrl.
Click Edit / Auto Blend Layers. Pay attention - "Smooth transitions of color and tone" should be activated. Click OK and here we have a cool result!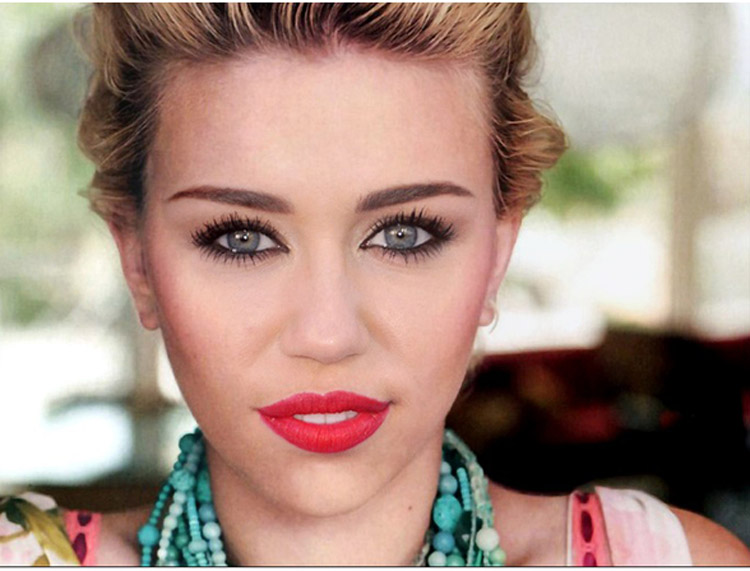 This is the most common way - it is quite simple and fast. The process of face swapping takes approximately 15 minutes. If you do everything correct, the result will please you.
Swap a head in Photoshop: detailed instructions
To swap a head is more difficult that to swap a face. The head on the original photo should fully correspond to the head in the donor image. It is possible that you will need to make a new photo, copying the lighting and position of the head in the photo you need to be edited. The "extra details" are able to hinder the task: hair, jewelry, collar, etc. And also do not forget about the physique: even a professional will not be able to achieve the ideal result if you want to transplant the head of the "Lilliput" to the body of the giant. If you do not take into account all the requirements, you will get some stuff like this: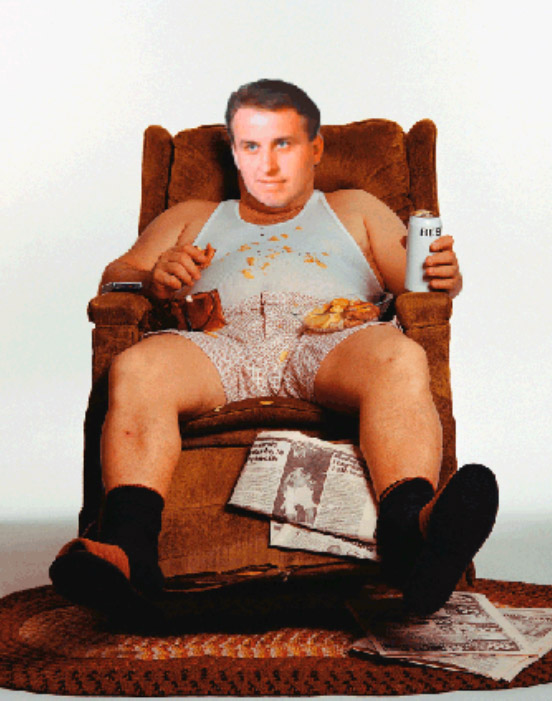 By the way, this photo is an example of a successfully swapped head from the tutorial on Photoshop 2007...
So, here is the sequence of actions:
Cut off the head in the photo where we need only the body. Perform this very neatly, with the help of pen selection. Keep the neck line.
Select the head intended for swapping from the background. Accurately do this with the pen tool. Include the maximum possible fragment of the neck to the selection area.
Dedicate the fragment into a separate layer and drag it to the photo with the desired body. At the same time, reduce the transparency of the layer for a convenient insertion.
Align the position and size of the head, and then restore the previous level of transparency layer.
Using the masks of layers and tools, we remove or paint over the fragments, achieving a homogeneous combination.
Important: make sure that the tone of the face, neck, hands and feet in the final picture coincides. Pay a lot of attention to the correction of sizes and proportions.
By the way, it's easier to swap a face than a head. It's all in the background: not all the pictures exactly match in the length of the hair and other details.
Quickly and immediately: face swap apps for android and ios
Many software developers have transformed the long and complex process of changing faces into an entertainment for smartphone owners. Now all you need to swap faces is your favorite gadget with a camera and a special application. And you can experiment as you wish, creating interesting or even frightening images. If you are interested in this, below we present a selection of the most interesting mobile applications for face swapping.
MSQRD
This is a popular application with a lot of positive feedback from users. The program offers a large set of overlays and masks that can completely change your photo and even turn you into an animal or zombie - or even change the sex.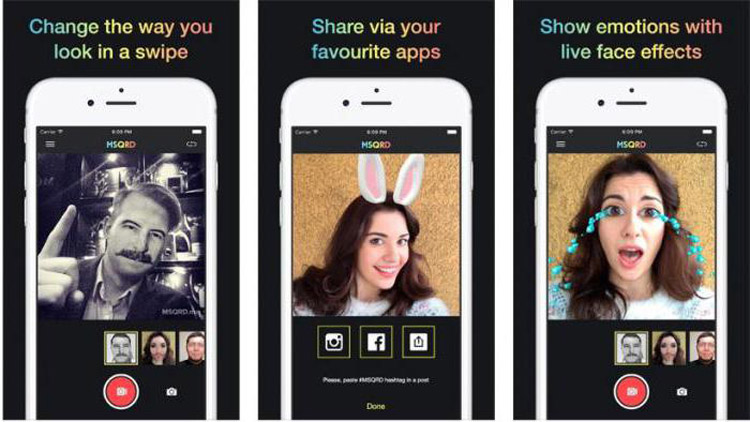 Modified photos can be stored in a cloud server or shared on social networks. The application interacts with all popular social networks of the world, so you can easily share the result with your friends.
Download MSQRD for iOS - iTunes
Download MSQRD for Android - Google Play
Face Swap Live
This app will allow you to swap faces with a friend, replace your portrait with an animal's face or a celebrity face. The sources for exchange can be found on the Internet. Another difference between this application and other programs is the ability to change the photo online. Simply put, you can turn on the shooting mode, point at the object and activate any effects or masks at your discretion. After this press the button - and the photo is ready!
Download Face Swap Live for iOS - iTunes
Download Face Swap Live for Android - Google Play
MixBooth
This application for swapping faces will allow you to feel yourself in the body of another person or swap places with friends. It can also be used as a "virtual fitting room" - for example, "borrow" a friend's beard to see how good it will look at you.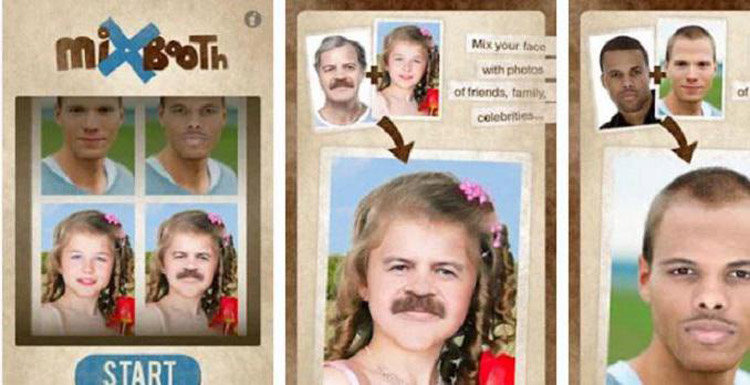 It is also possible to grow hair or to get a bald head, and even to change a sex. Download any photo from the web and swap faces with a character. There is no limit for your fantasy - experiment and have fun!
Download MixBooth for iOS - iTunes
Download MixBooth for Android - Google Play
Lip Swap
This program allows you to swap parts of your face. The application can put your eyes instead of your mouth - now your portrait will have to look at the world with a mouth. There is also a function to create a video, which can be posted on social networks. Pay attention – this app requires a huge amount of free memory, so it is suitable only for modern powerful smartphones.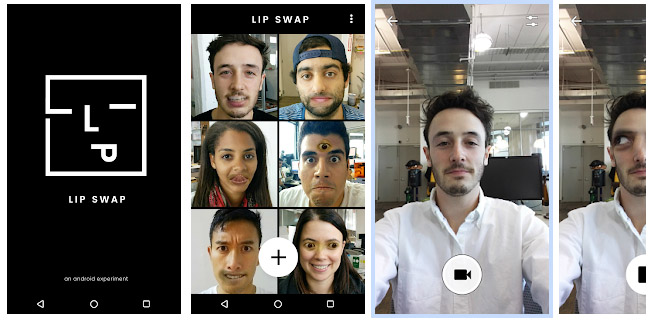 Download Lip Swap for Android - Google Play
Face Swap
Are you crazy about any celebrity? Are you a fan of an actor, singer or even a politician? Feel closer to the subject of your adoration. This application makes it possible to change your face, adding the features of an idol to it in just a couple of simple steps. All you need is your quality portrait and snapshot of your idol.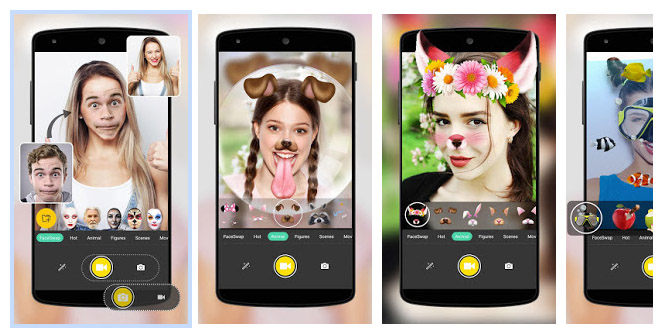 An excellent face recognition algorithm allows the program to work in automatic mode: it independently conducts all changes. You will only have to make small corrections - for example, correct eyebrows. Cloud storage of readymade images, sharing on social networks - all this is available with the help of a convenient program.
By the way - if you use one of these applications, you should know that the result can sometimes be like this: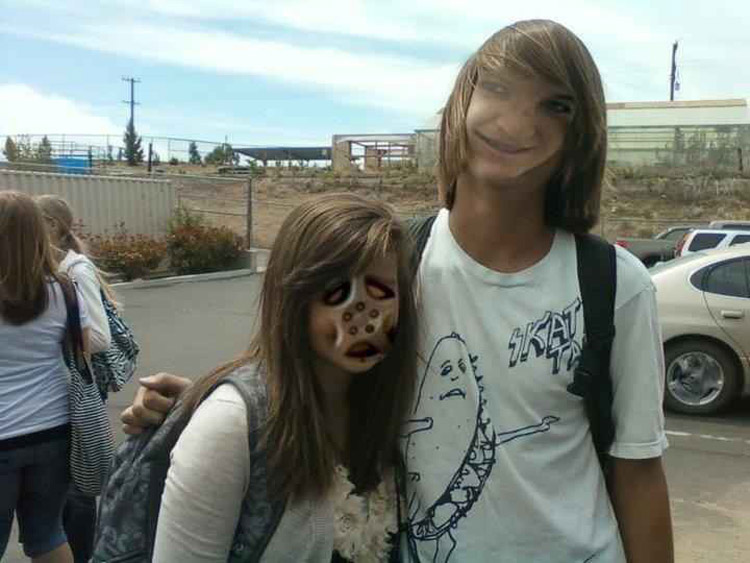 Download Face Swap for Android - Google Play
Just see the result!
Finally, we have prepared several successful examples of replacement of persons for you. At first glance, you will not understand who is who...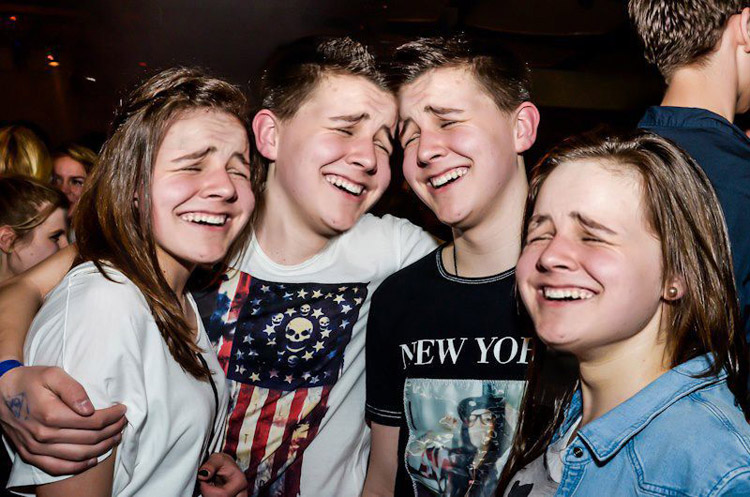 What an interesting couple...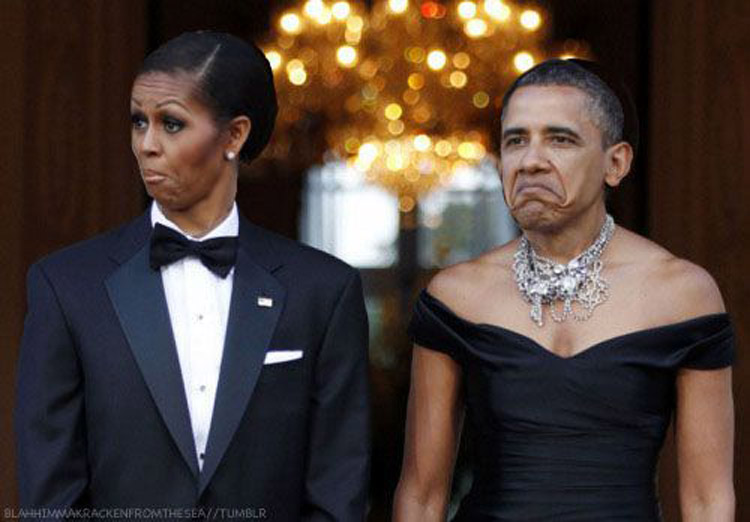 Just like his father…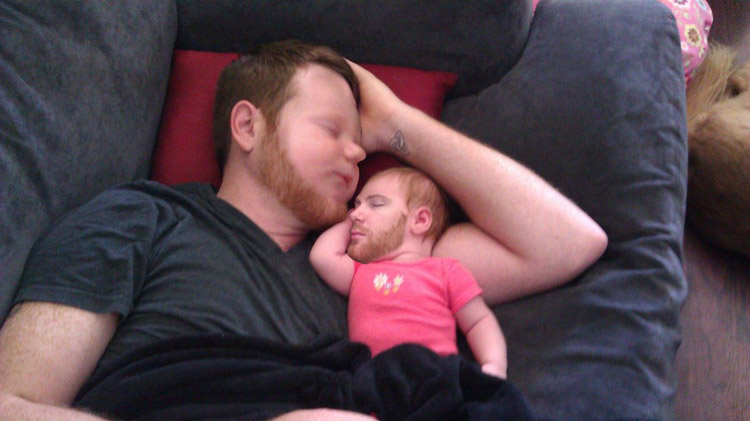 And this is even better, don't you think?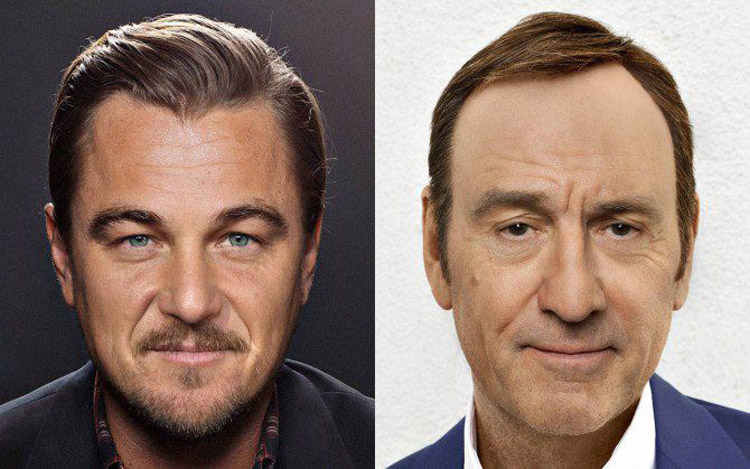 Why not?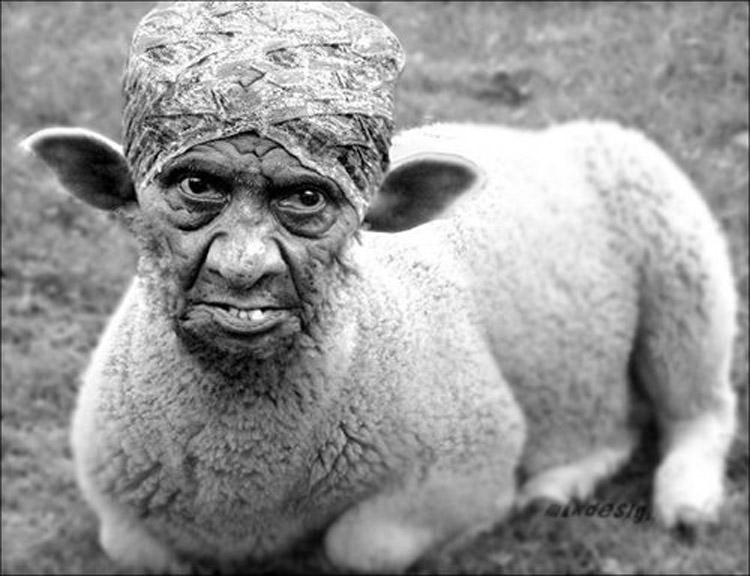 How much does it cost to swap a head or face?
The price depends on the quality of the sources that you provide and on the result that you need. A comic exchange of faces for a social network is the cheapest service. If you need the most qualitative and inconspicuous replacement of persons with detailed elaboration, all lines, proportions and colors alignment, be ready to pay more. But the result is so perfect that it can be printed in magazines or advertising banners.
Please feel free to contact us to arrange a price for your order. Tell us what you want to get: we will assess the situation and inform you what kind of result we can provide. Be sure - the result will not disappoint you.
Isn't it easier to make a person's replacement for free?
This is entirely your choice - we described all possible options in this article. But consider that:
You can perform a head swap in Photoshop by yourself only if you have good working skills in this software;
Replace a head with a mobile application you can only for the fun of it: most of these programs make serious mistakes in the process of work;
Any apps that promise to "swap a person in 1 minute and 3 simple steps" are not able to provide perfect result. They are created most often for the fun;
If you are not a professional editor you won't be able to create perfect fake.
Therefore, if you'd like to correct your wedding photos and swap head or face in pictures where your eyes are closed - you will need the help of a professional. If you want to become like an idol without help of a plastic surgeon, it's also better to contact a specialist in photo manipulations. We will always help you!
Our team is open to any cooperation: whether it's a one-time order for processing a single image or a series of orders with a large amount of work. Each client will get what he expects: attentive attitude, reasonable prices and an amazing result.
Best team
Our company employs the best specialists – in order to take their positions they have passed a large competitive selection. Only the best editors took their places by the monitors - and they really know everything about photo processing. Give us any tasks - even impossible ones - and we will cope with them. Even if you need to rotate your head, change the direction of your eyes or facial expressions - our professionals will do this, although, of course, sometimes there can be the exceptions.
We offer our clients the best terms for cooperation. And we are really able to create a miracle - to swap you with a friend, beloved dog or even US president. We love to surprise! Please feel free to contact us in any convenient way: by mail, using online messenger or feedback form on the site.