August 16, 2018 at 4:06:22 PM GMT+3
To get the best result and save your time we recommend to order portrait retouching by professional photo editing services from $3 per photo.
Order Retouching
Processing of digital photos (photo editing) and photo manipulations imply the use of professional graphic editors – such as Photoshop, PhotoDirector, PaintShop Pro and many others. The latest versions of the software are multifunctional and powerful, which means they require a large amount of RAM. Also it is worth considering that one original professional made photo takes several tens of megabytes of disk space. To ensure that all processing processes are fast and large loads do not lead to crashes and data loss, a high-quality processor is required.
As you can see a powerful computer for photo editing is needed to post process photos. Here you can find the advices of professional retouchers on how to choose the best model and get a high-quality device for working without overpaying. We figure out what kind of functional you need and what components to choose, so that the PC's performance is sufficient for home or professional work.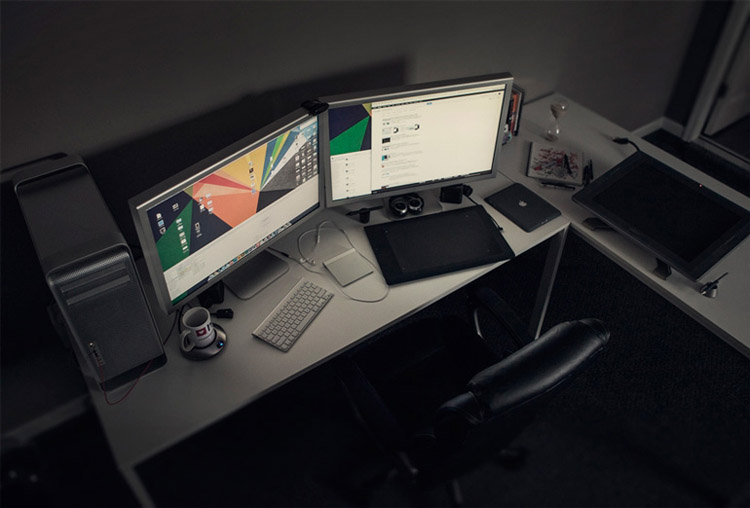 Note - we consider desktop computers, not laptops. There are a lot of reasons: the best laptop is not comparable in price, performance, reliability and memory with the desktop computer.
So, how to choose the best computer for photo editing?
Four options of computers for photo editing
Given that among our readers there are people of different incomes, we offer several options for assembling a desktop computer: from cheap to expensive. All of them at the same time have enough power to edit photos in the latest versions of Photoshop, GIMP, Lightroom, InDesign, Illustrator and others. Here we do not give the specific names of the hardware blocks - they quickly become obsolete, so we focus on technical specifications.
The cheapest computer for photo editing
The task of the cheap model is to provide conditions for performing all the necessary tasks when editing of photos. This requires a powerful, but inexpensive processor, dual-channel RAM and a large hard drive. And the discrete video card can be used, which has the modest characteristics. Details of the hardware of the computer can be easily fit in a compact package - for example, MicroATX.
So, what we need:
AMD processor of modern generation (but not more than 4 cores);
2 RAM cards of 8 GB each;
HDD at least 2 TB;
ASRock motherboard (for example, A320M);
Inexpensive graphics processor (for example, Radeon R7 240);
520 W power supply;
Any stock cooler.
Such an assembly makes it possible to work comfortably with Windows 10 and solve the main tasks of photo processing. But it is not very comfortable to perform professional deep retouching on this computer. So let's call this option "workstation for a beginner retoucher."
Price + quality: the best computer for a photo retoucher
This computer needs more money, but you can fully work with it - which means you can recoup the cost of the purchase. Here the Intel processor is responsible for the speed. Even with the standard settings, its power is enough for comfortable professional photo retouching.
There is a powerful video card; the HDD and an additional SSD drive are used for data storage. For a quieter operation, a suitable cooler is selected (in contrast to the stock cooler in the cheaper computer assembly). The hardware is fixed in a full-fledged large building - and there's still plenty of room for upgrading.
So, what we need:
Processor - Intel i5;
Graphics processor - at least Radeon RX 560;
A powerful motherboard (for example, MSI Z370-A Pro);
2 RAM slots of 16 GB each;
HDD for 2 TB;
SSD for 250 GB;
Power supply unit for 600 W;
A suitable cooler (for example, CryoRig H7).
Working with Windows 10 you can comfortably interact with any graphic editors and software for professional photo retouching.
Maximum capacity
Do you want something "hotter"? Here is an option with maximum capacity for photo retouching. To be honest the previous assembly was very good for a mid-level retoucher. But if you have enough money to spend, why not to look for something more powerful?
What is the difference between this assembly and the above one? It has a processor with the highest capacity per core. By the way, this is an important characteristic in evaluating the speed of programs for image editing.
This assembly also includes a professional video card - specially designed to support 4K monitors, it uses HDR technology. Simply put, on one or several working monitors you can see the most accurate display of the image you are working on. Very useful option for professional retouching, isn't it? By the way, "professional video card" and "game graphics card" are the different concepts. Therefore, if you want to crush the monsters during the brakes in editing of photos, that cat won't jump. We work here, do not get distracted! :)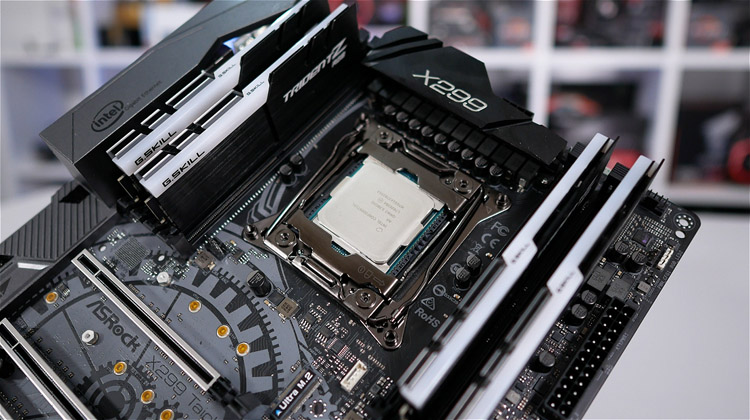 So, here is the assembly:
Processor - Intel i7;
Video card - PNY Quadro P600;
Motherboard - Asus Prime Z370-A;
2 RAM cards with 16 GB each;
HDD for 4 TB;
SSD for 500 GB;
Power supply unit with a power of 650 W;
Cooler - CryoRig H7.
With these characteristics the program works fast and it is comfortable for you to work. Do you think it cannot be better? In fact, we have not considered an assembly of the computer for professionals yet.
Computer for professional photo editing without restrictions
If photo retouching and 2D design is your profession, if you devote most of your time to this, you need to spend money on a steeper computer model. This is no longer just a powerful machine - it's a "monster", ready to carry out any of your orders.
The main element of this assembly is a video card of Hi-End class. It supports up to four 4K monitors, it is capable of providing the utmost accuracy of color transmission and image clarity. This video card runs one third faster than the video card from our previous assembly. Also for this option we chose the most powerful processor with the highest performance per core. It provides lightning fast execution of tasks.
And again, we recall that this video card is designed to perform professional tasks, but not for games. So, for professional photo retouching, it's better to buy such an assembly of the computer:
Processor - Intel i7-8700;
Video card - PNY Quadro P1000;
Motherboard - MSI X299 SLI Plus;
4 RAM of 16 GB memory cards each;
HDD for 4 TB;
SSD for 1 TB;
750W power supply;
Cooler - CryoRig R1 Universal.
You can use any of these examples and buy a computer for photo processing. And now let's talk in more detail about the rules for selecting each hardware component, as well as the manipulators and the monitor. Each element is important - especially if you want to work comfortably and achieve professional results.
How to choose a processor for your computer
The processor is the main element of the computer intended for photo editing. Therefore, it is necessary to start the device selection with the processor, choosing the remaining components depending on its characteristics. And this element is usually the most expensive part of the computer.
"There is nothing to think about - you need to choose a processor that has more cores!" - Some users think. This is not really so. It turns out that the main retouching tool - Photoshop - works the best with processors that are capable of delivering high performance in the minimum number of threads. Simply put, the more cores - the lower the speed of the graphics editor.
The thing is that the clock speed is important for Photoshop, but not the number of cores. Therefore, the 6-core novelty Intel Skylake-X is not very suitable for computer for photo editing. But the generation of i7 with the number of cores up to 4 is quite a good option.
Computer for retoucher - choice of the video card
You have two options: either to purchase an expensive professional graphics card to work with 4K images (and corresponding monitors), or to be content with an inexpensive graphics processor with standard features. There is no middle option. Therefore, if you are not going to work with 4K, you can quite comfortably use the resources of ANY video card that you have.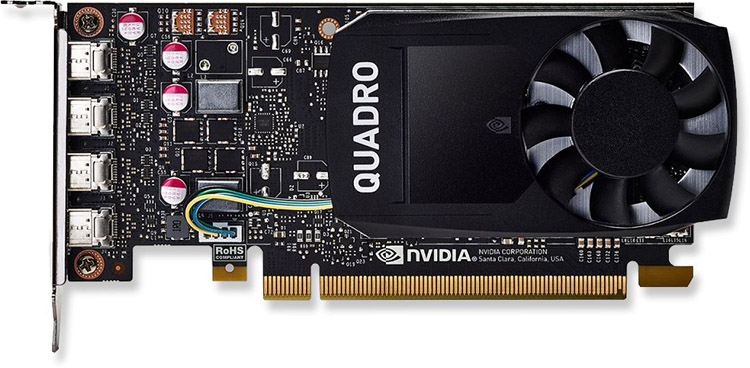 If you are a professional (or strive to become one), you need to buy Hi-End video cards. They are really important for deep photo processing. For example, the Quadro (NVIDIA) line cards display a 10-bit HDR. This means that you see a realistic image. Hence, the result of processing will also be excellent. And you do not have to be embarrassed to justify that the chromaticity has changed due to the characteristics of the monitor.
Yes, similar possibilities are provided by other video cards: for example, the NVIDIA. But the fact is that the video cards with such characteristics are much more expensive than cards intended only for professional photo processing and graphic design.
RAM: easy choice
The choice of RAM is really not so difficult. If you buy a modern computer, DDR4 boards will be installed there by default. In the low-cost assembly there is an operational memory in 2-channel mode, for more expensive versions - in 4-channel mode. If you choose two 4 GB memory cards that function in 2-channel mode, they will work faster than one 8 GB RAM card. Accordingly, 4 4 GB cards (in 4-channel mode) will work faster than one 16 GB card.
But do not complicate everything and buy an assembly with 8 GB DDR4 board. This is enough for amateur photo processing without computer freezes and other issues. And if you want to have more resources - you can always buy another card and put it into the slot. This is the advantage of large cases for computer hardware :).
How to store photos? Select memory
Professional photographers shoot in RAW. Photos in this format need VERY MUCH space on the disc. Modern cameras, by default, take pictures in RAW format without compression. The resolution of originals sometimes exceeds the 4K format. Therefore, the storage capacity for all originals and processed images should be large enough. Disks less than 2 TB in size cannot even be considered: they will fill very quickly and seriously restrict you in work.
So, for any assembly, select the HDD of at least 2 TB. Is there an upper limit? Usually 5 TB of memory is enough for full professional work and storage of all results. You can buy a 2TB HDD first, and add another 1-2 discs if necessary.
We advise you to add an SSD disk to the assembly. If you store the original photos and processed versions on the HDD, the SSD is designed to store the files of the operating system and programs. Why is that so? It's simple:
SSD provides a faster download of files out of the memory storage;
HDD - an indispensable disk for long-term storage of files.
Power Supply Selection
The task of the power supply unit is not only to give the computer systems the right amount of energy, but also to protect them. And it is worth paying attention to energy-efficient models that can save electricity. Any power supply unit with a bronze rating (80 Plus Bronze) and higher is suitable. Advantages of such devices are quiet operation of the cooling system, efficiency and high reliability. Regarding the recommended power characteristics, above there are examples of assemblies and optimal indicators for power supplies. The general conclusion: it is better not to save on such elements; otherwise hundreds of dollars spent on computer hardware will be lost.
And now to the main thing: choosing a monitor
The monitor is the most important part of the computer intended for photo processing (after the processor and video card). Below we describe in details the requirements for monitors. Running ahead, we can say that you need at least one 4K monitor. After all, accurate color reproduction and high definition are the most important criteria for photo retouching. If the processed image on the customer's computer will look different from yours – this can cause a great issue.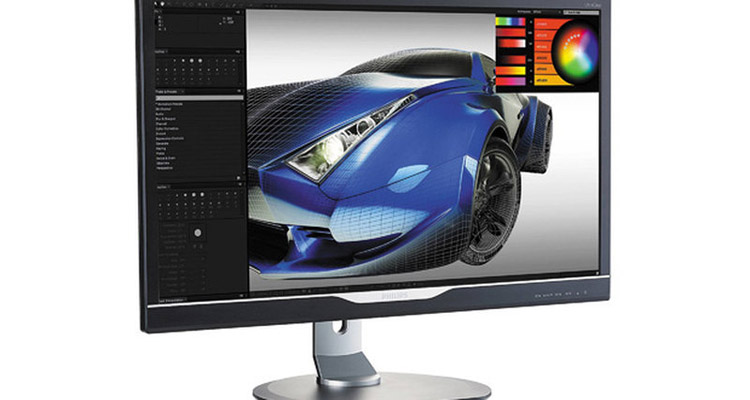 So, to work with photos, you need a monitor with the following characteristics:
Type of matrix - IPS;
Color depth - from 10 bits (16 million colors);
Minimum diagonal - 24 inches;
Recommended aspect ratio - 16:10;
Screen surface - matte or semi-glossy (they do not glare and do not distort the photo);
Mandatory presence of halftone settings, contrast, brightness, detail settings.
In brief, let's speak about the parameters of the monitor's selection, which you will use to retouch photos. For example, the response time indicator should be minimal: the lower it is, the more accurately the picture is displayed in the dynamics. Viewing angle, type of illumination, the presence of modern interfaces – all these are important things.
Processing of photos is a serious eye strain for the retoucher. Therefore choose a monitor that takes care of your eyes. Here is a list of the characteristics of such a model:
Multi-color illumination (GB-LED or RGB-LED);
IPS matrix with anti-glare properties;
Minimum contrast ratio - from 600: 1-700: 1;
The lower limit of brightness is 200-250 cd / m2.
Keyboard and mouse for photo processing
"Can I use an ordinary keyboard and a mouse that I bought for $ 1 on Amazon?"- You ask. You can do anything you want. But if we talk about professional work – the devices must be specialized.
With a mouse in fact, everything is simple - any gaming model is good for retoucher. First of all, it is comfortable and ergonomic: the hand will not get tired of hours of work. In addition, the body of the mouse has several useful additional buttons.
Now let's move on to the keyboard. Our choice is a gaming model with additional programmable keys. Their number can be different (depending on the model). The main value of such keys is the ability to set a certain action for them or a whole chain of actions (macro). This is a great tool for speeding up routine operations during processing!
Let's consider the features of these keyboards:
Own memory - unlike standard models these keyboards do have it. This memory stores all of your commands, which you set for additional buttons. This will not configure the keys each time you turn on the computer.
Rubberized keys. First, they are easy to change when worn. Secondly, they protect the keyboard from moisture. Shed some coffee – not a problem!
Additional touchpad and screen (not for all models). The screen usually displays data on the load on the processor and RAM, temperature, system state.
Connectors for memory cards. A useful addition that allows you to connect cards directly, rather than reaching for the system unit.
Backlight. Firstly, it's beautiful :). Also, the backlight is indispensable when working in a dark room. In some gaming keyboards, the brightness and color of the backlight can be adjusted.
Graphic tablet for retoucher's computer
All professional retouchers and designers use this device in their work.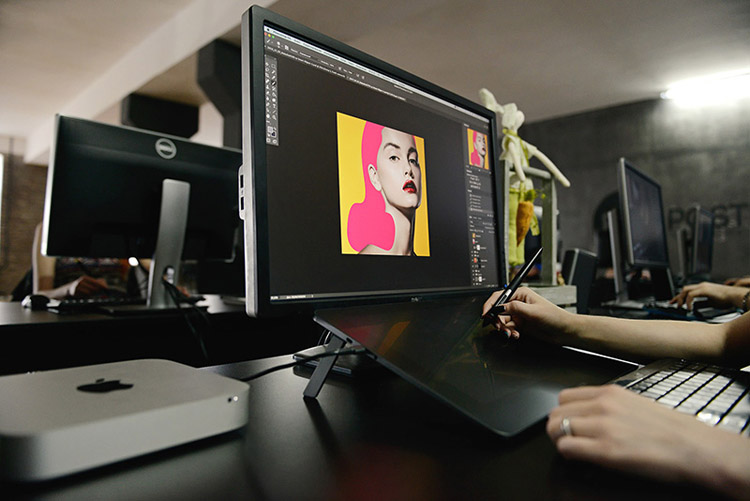 The electronic pen of the tablet provides more accurate actions when manipulating the fragments of the photo. In addition, many operations using a graphic tablet can be performed faster. Even elementary framing of images can be accelerated using a tablet. The effectiveness of working with masks, when painting, copying small fragments and removing "trifles" increases several times.
Let's mention one more advantage of the pen: sensibility to the force of pressure. Imagine that you can change the diameter of the brush by simply clicking on the pen. The tablet and a pen have a lot of functional advantages. If you a professionally work on editing photos – perform all tasks with the tablet. In the end, the cost of this gadget will pay off, and you get convenience working and time savings.
Conclusions
To buy and assemble of a high-quality personal computer for photo editing, you need to determine the characteristics of such components:
Processor;
Memory;
Video card;
RAM.
All other factors are secondary, but they also matter. You can use our examples of assemblies, which we devoted the first part of the article or create your own computer.
Important advice. When choosing a computer, be sure to focus on the requirements of the programs which you are going to work with. Manufacturers of any software list the minimum and recommended characteristics of computers for a high-grade operation.
One more thing - it is better to buy an inexpensive computer for photo processing if you are going to retouch for yourself;let's say if you process your own pictures. But be prepared that the result of the editing will be different from the professional retouching made on a high-grade workstation.
How to achieve the best result? There are two ways out:
Spend more than 10 thousand dollars on a professional computer model. At the same time, the costs will not pay off if you are not going to earn on retouching.
Order photo retouching by professionals. Using the best computers for photo editing and professional knowledge, we provide perfect result. And it costs much less than buying a computer.
Make your choice and order our services: we retouch photos of any complexity; we work with beginning photographers and professionals. Email us - we are happy to answer all your questions, give the prices for services, process your photos quickly and keep your privacy - just because we are the best :)