July 10, 2018 at 5:09:04 PM GMT+3
Sexy photo editing - about all the nuances without any constraint
It does not matter what you are going to use these photos for: publishing in a magazine, posting on a social network, or storing in a secret home archive. The only thing that matters - all the images of a bare body should be retouched. Photo editing is exactly what turns an ordinary picture into a quality one and if you would like even in a highly artistic picture.
Sexy photo retouching is what your photos need
Taking pictures of a naked body is not so easy. A good camera notes everything: all moles and pimples, hairs and redness, wrinkles and the folds of the skin will be noticeable in the photo. Also the picture can be spoiled by some objects on the background, closed eyes, glare of light or even scouts who have come to sell the cookies to you...
We are ready to turn your erotic and other private photos into masterpieces. Qualitative professional photo retouching varies:
The simplest processing: color correction, brightness adjustment and some other minor corrections that must be done when processing images;
Medium complexity retouching includes: small skin imperfections removing, color correction, if necessary - adding effects (for example, turn a color image into a sensual black and white). And we'll run ahead - no, it is not enough just to apply one filter for this;
Professional complex retouching which is necessary for photo publication. We will perform the full processing of the image which includes all above and also the liquefy correction of the figure and hairstyle; any cardinal changes of the body will be implemented.
Why do the nude photos need editing?
Professional photo retouching of adult photos is necessary for:
Magazines;
Catalogs;
Advertising;
Portfolio of models and actors / actresses;
Publications in the social network;
A secret home album, only for the two of you.
So, all sexy photos need to be edited, even if the shooting was made in a photo studio with the participation of art director, make-up artist and professional model. For you to understand what we mean here is an example of nude photos before and after editing.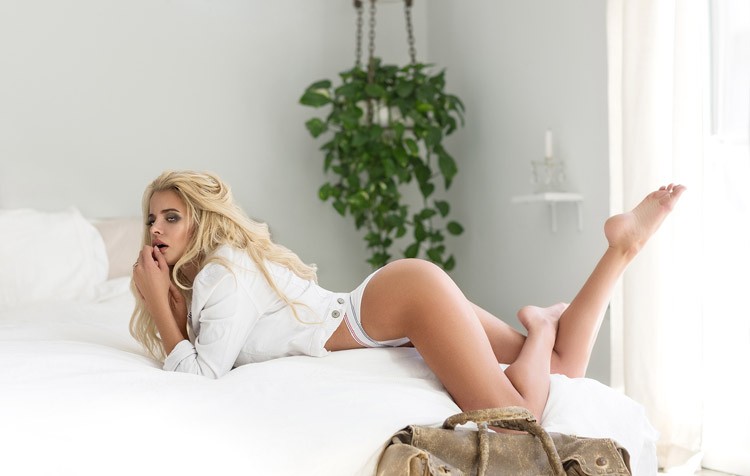 What you need to know about shooting of sexy photos
There is always one goal of adult photos - to show the beauty of the body, to cause certain emotions: from admiration to frank desire (why not?). The whole teams of professionals who know their business well create beautiful pictures. But what if you want to make "home-made" frank photos by yourself?
You should keep in mind that the retoucher is not a magician. If the original photo is of a low quality, we will not be able to turn it into a masterpiece. So you need to properly prepare for this and do everything needed to make the photos really exciting, sensual and high-quality.
It is important - you should not be shy. If you decide to do this for art or any other purpose, be brave. This applies not only to the model, but also to the photographer.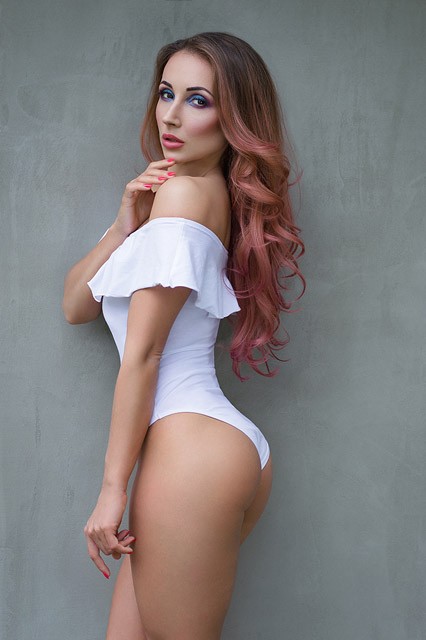 Genres of nude photos:
Erotic photos. No intimate details, but at the same time the picture should evoke a desire.
Art nude photos. The goal is to cause admiration for the beauty of the body and the atmosphere created around it.
3 rules for creating quality sexy photos:
To begin with, the photographer should have a camera of at least a semi-professional class, suitable lenses and skills to use all of these. The knowledge of composition and exposition will not be superfluous. Also there are some more conditions: at least quality lighting. But that's not all. If you want to make it easier for us to work and save on retouching, observe these rules in the process of shooting.
1. Create visually exciting photos
Nude photos, in fact, are the fine-art - a picture that people look at with interest. So, you need to demonstrate a naked model, which is interesting to look at. The nude photo retouching is often associated with the use of filters that turn the picture into black and white. This is a standard technique that allows you to make a photo highly artistic. The emphasis on simple colors makes it possible to shift the viewer's attention to the body (we are not talking about boobs now!), contrast and play of light.
2. Nude photos and portraits are different genres!
Simply put, when photographing a naked body, do not focus on the face. You can even not include the head in the frame. This is logical: the genre is created in order to show the beauty of the body, without distracting the viewer. If you want to show the personality and emotions - shoot a portrait, and we will also retouch it with pleasure. But this is a completely different genre with other approaches to processing.
3. Share accents
Initially, you need to know what emotions the photo should evoke. If this is a frank sexual desire - shoot eroticism photos. If you need a piece of art, a photo of a bare body should not be sexual. And still any representative of the opposite sex will be interested in looking at the photo. But to look at the photo with interest and look at the photo with sexual arousal are completely different things.
Of course, not everything is so simple - the tastes of the spectators are completely different, and it is not possible for everybody to find the exact line between eroticism and art nu. To create a beautiful nude photo it is better to hide all important parts in the shadows or by the special poses of the model.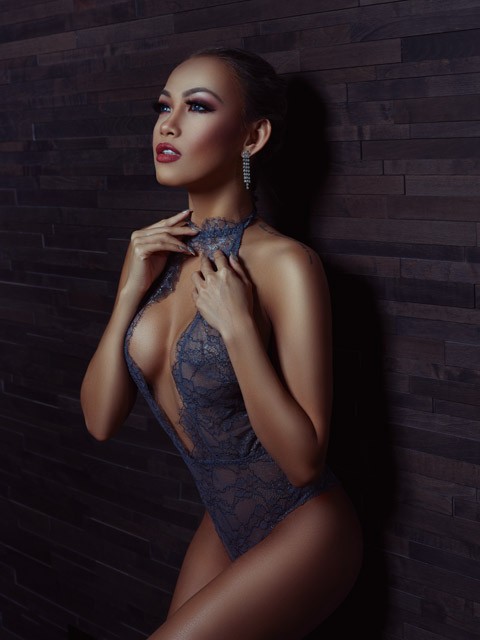 How to take a shot that is easy to retouch: tips
It is a pleasure to work with photos that are made with an understanding of all the features of the nude genre. Modern photo processing software makes us superheroes. But still a lot depends on the shooting conditions, the skills of the photographer and the model. Therefore, here are some tips worse to know before organizing a photo session - they will allow you to achieve a good result and save on photo retouching services:
The model should not wear tight clothes before shooting. Otherwise, the seams of clothes will leave traces on her skin. They can be removed during the post processing, but this is long, and difficult process, besides this is expensive. After all, it is about preserving the natural structure of the skin, and not just about masking defects.
Strained postures - that's what can spoil the picture and even retouching cannot help here. Therefore, the model needs to learn the necessary poses in advance and achieve their naturalness. Note: this advice is relevant for non-professional models. Experienced models have a good command of their body and know how to demonstrate it in a proper way.
Do not bend the body! Even if the model has an ideal gorgeous figure, strong bends show unaesthetic folds. In general, when photographing a naked body, you need to hide its shortcomings at the stage of composing the picture.
Remove all distractions. Turn off the focus signal on the camera, turn off the smartphone. In general, exclude everything that provokes the tension of the model. We need naturalness, we have already talked about this above.
Do not make the model laughing! Save your jokes for another genre. The rules are such that the bare model should not smile. You're photographing her not for the high-school graduation album, right? Perfect expression would be neutral or thoughtful-sexual.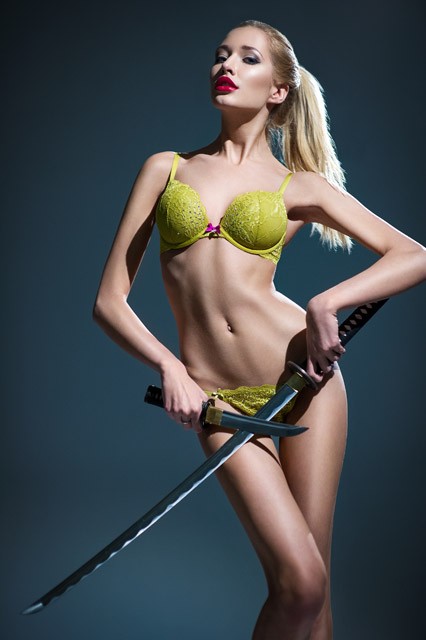 Shooting in the studio or outdoors?
To shoot in the genre of nude, a small studio is enough. All that is usually needed is a room with a photo backdrop and a place sufficient to accommodate one or two light sources. In fact, you can even organize a photo shoot in your living room.
When shooting a naked body it is necessary to have uniform light and color. Therefore, you need a softbox for lighting and a reflector. Sometimes you can even use natural light from the window - but the result is highly dependent on the experience of the photographer.
Shooting nude outdoors with natural lighting conditions is a great idea! In addition to saving on studio equipment, you can feel yourself as creators. After all, you can realize such ideas: "nature and naked person - a natural unity" or "a defenseless naked body and harsh conditions of nature (knotty trees without leaves, bare rocks, snow ...)".
By the way, nature will help to hide everything that you are not going to show in the photo - with the help of a natural shadow from trees and bushes.
Our work
Processing of photos made in the genres of "erotica", "art nude" is one of the directions of our work. We are professionals, therefore we help to realize any ideas, hide any shortcomings and achieve the desired result. It does not matter what the pictures will be used for - we do exactly what the client wishes. Be sure on these examples, how we achieve the best result using professional software and equipment for photo processing.
Sexy Photo retouching - video
Is it possible to edit sexy photos by myself? Many people ask this question for various reasons: it can be a desire to save, restraint, a fear of loss of anonymity... First of all we respect your right to anonymity and proprietary. Secondly - for self-processing of such photos you need to be able to work in Photoshop at a professional level.
The fact is that the process of adult photos editing is complex and multi-stage. The specialist needs to do dozens of operations and spend several hours to achieve the desired result. It's impossible to learn this quickly, and there is no software that can do this automatically.
The main feature is the skin, a lot of skin, with all its shortcomings: spots, birthmarks, wrinkles, redness, fat... This cannot be just "covered up". The skin should look natural - otherwise the picture will lose all its value. Therefore, sexy photo retouching requires a tremendous amount of time and effort.
In order not to waste time, we will show you the standard process of nude photo retouching. Watch it and make sure that such editing needs to be trusted to the professionals. If you feel the strength for self-retouching - let this video be a master class for you.
We guarantee complete confidentiality
We understand that most of these pictures are intended "not for everyone". We respect your privacy. Therefore, all the data that you give during the process of ordering is strictly classified.
The photos you send for processing are safely stored. Only one retoucher, who is responsible for sexy photos editing has an access to your photos. After the finished result is delivered to you, we will remove the originals from the server at your request. We undertake not to use the photo at our portfolio and anywhere without your permission. All our employees sign a non-disclosure agreement. This is an additional security guarantee for your photos and information about you.
How much does adult photo retouching cost?
All the prices for services are indicated in our price list. The cost is fixed, so you can know in advance how much will nude photo retouching cost you. But if you are interested in fashion photo retouching of the nude photos - the cost of this service should be discussed with the manager. The fact is that this is a complex process, which depends on the original photo and the goals of the customer. The price is defined in the process of discussing the project.
Trust the professionals
Our company is a team of professional retouch specialists. Each of our employees passed strict competitive selection, proving their knowledge and practical skills. Responsibility and respect for the customer are the obligatory qualities of all employees. This allows us to guarantee an ideal result. We are able to implement projects of any complexity: both for personal use, and for professional use in advertising or mass media.
Sexy photo editing is a special service. We have a delicate approach to this process, respecting the right to secrecy and ensuring a qualitative result. Contac us and let's discuss all the details of the order. You can contact us through the form on the site or email - choose any convenient method. We are happy to hear from you!